BY LINDA BENTLEY | MAY 2, 2012
Town in denial over open meeting law violation
Carefree extends employment offer to applicant for water company management post
CAREFREE – Call to the Public during Tuesday's council meeting brought Jim Peirce to the podium to ask members of council whether or not they believed Vice Mayor Melissa Price violated Arizona's open meeting law (OML) when she announced she had contacted every member of council to discuss four-year staggered terms.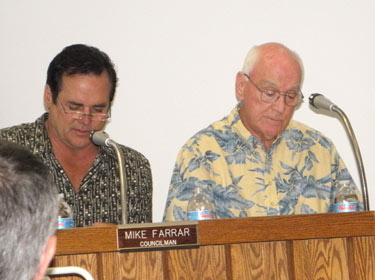 Councilman Arthur Gimson (l, on right) said he received a call from Price and they each expressed their points of view on the matter but Gimson said he didn't want to hear what any other council members she contacted had to say and she didn't disclose that.

Councilman Mike Farrar (on left) said he too received a call from Price, who expressed her views in favor of staggered terms, but stated they did not discuss her conversations with any other council members.

Councilman Marty Saltzman said he looked to the town attorney, who advised him Price did not violate the OML.

Councilman Glenn Miller said council members were at an event where "we all gave our opinions on this before," and stated, "This is nothing new."

The town insists there was no OML violation because Price did not discuss with other members of council what they each discussed with her.

However, in his 2005 Attorney General Opinion, Terry Goddard wrote, "The OML does not specifically address whether all members of the body must participate simultaneously to constitute a 'gathering' or 'meeting.' However, the requirement that the OML be construed in favor of open and public meetings leads to the conclusion that simultaneous interaction is not required for a 'meeting' or 'gathering' within OML."

Goddard then quotes from the 2001 Arizona Attorney General Arizona Agency Handbook, which states, "Public officials may not circumvent public discussion by splintering the quorum and having separate or serial discussions … Splintering the quorum can be done by meeting in person, by telephone, electronically, or through other means to discuss a topic that is or may be presented to the public body for a decision. Thus, even if communications on a particular subject between members of a public body do not take place at the same time or place, the communications can nonetheless constitute a 'meeting.'"

In his example, Goddard describes a single board member who proposes legal action by recommending a course of action for the board to consider, such as, "We should install a crosswalk at First and Main."

Goddard wrote, "Thus, an e-mail from a board member to enough other members to constitute a quorum that proposes legal action would be a meeting within the OML, even if there is only one-way communication, and no other board members reply to the e-mail."

In this instance, Price not only contacted every member of council by phone with her
proposal advocating for four-year staggered terms, discussion took place between Price and each member of council on a topic that would be coming before the public body for action.

The Opinion states, "The available case law and Arizona's statutory language indicate that one-way communication by one board member to other members that form a quorum, with no further exchanges between members, is not a per se violation of the OML … A communication that proposes legal action to a quorum of the board would, however, violate the OML, even if there is no exchange among the members concerning the proposal."

According to the Attorney General Opinion and comments made by council members during Tuesday's meeting as to what actually transpired, Price appears to have clearly violated the OML.

During Current Events, Mayor David Schwan announced the town would be extending an offer of employment to Craig Crossman to replace Stan Francom, who is retiring, as manager of the Carefree Water Company.

Schwan also announced the Arizona Corporation Commission would be holding public meetings May 8 through 10, during which there would be discussion about closing the Boulders Sewage Treatment Plant if anyone from the public wished to attend.

He said he didn't know specifically on which day the agenda item was scheduled.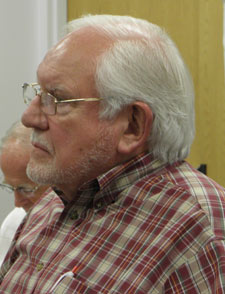 Foothills Community Foundation (FCF) board members Eddie Smith (r) and Jeff Miller made a presentation to council about its new community center in Scottsdale next to the YMCA on 60th Street, touting it as a "tremendous asset" for the community.

Miller said the FCF lacked adequate resources to develop additional programs and asked council to consider including funds in its budget to help support the FCF.

Miller said their total operations cost comes to $40,000 per year and asked Carefree to consider budgeting for a proportional $7,000 contribution, the rest of which they will seek from Scottsdale, Phoenix and Cave Creek.

Council voted 6-1, with Councilman Jim Van Allen dissenting to accept the citizens' Long Range Financial Report developed by Hayward, Greg Gardner and Jerry Wetta.

Hayward, who said they took the position the town would not impose a property tax, stated if the economy does what experts say, the town's sales tax will provide adequate revenue based on the current level of services.

Gimson expressed concern over the $1.86 million shortfall to fund the fire contract over 10 years and suggested a property tax of $250 per residence to supplement the cost rather than subsidize the cost through the general fund.

He said citizens were currently getting a free ride and the $250 tax would be tax deductible.
Gimson also was concerned about keeping water rates up after the town's WIFA (Water Infrastructure Finance Authority of Arizona) loan was paid off.

Hayward said many residents in Carefree, like himself, don't itemize deductions because they have their houses paid off, leaving not much to deduct.

Gardner said when the 1 percent sales tax was established for fire protection services, it was never intended that it would cover the entire cost of the fire contract and council knew they'd have to supplement it from the general fund.

Council voted 6-1, with Van Allen dissenting, in favor of the revised general plan.

According to Assistant Town Planner DJ Stapley, the only really contentious portion of the general plan was the northeast corner of Cave Creek Road and Carefree Highway, which has been designated a special planning area (SPA).

Van Allen questioned why it was being changed and why not wait until the owner had a plan to develop that parcel. He also asked why it was treated differently than the northwest corner of Carefree Highway and Tom Darlington Drive.

Town Administrator Gary Neiss explained there was far more intensity and commercial development planned in the general vicinity of Carefree Highway and Cave Creek Road and the corner at Carefree Highway and Tom Darlington was a signature intersection and what people identify with when they enter the community.

During public comment, Peirce suggested they either delete the SPA or provide the intent in a narrative.

Peirce then asked the mayor if he planned to become a paid consultant like former Mayor Ed Morgan.

Miller asked Peirce, "What's your agenda?"

Schwan immediately cut him off saying, "Enough!" and urged council to adopt the general plan.

During the roll call vote, Van Allen voted "present," which Town Clerk Betsy wise refused to consider and told Van Allen he needed to vote one way or the other. Van Allen changed his vote to no.

Council voted unanimously in favor of calling for a Nov. 6, 2012 election to adopt the general plan.

Council was unanimous in its approval of the purchase of a $193,000 PM-10 street sweeper.

According to Neiss, a federal grant will contribute $186,000 toward the cost, with the town paying the remaining $7,000.

Council also voted unanimously in favor of a $250,000 MAG engineering study to look at ways to enhance arterial streets, connectivity and pathways through Carefree and Cave Creek. The cost to each town will be $5,000.

Price announced the agenda item regarding staggered four-year council terms is in conflict with term limits and the matter has been referred to the town attorney to look into.