MAY 2, 2012
Arizona's Statehood Centennial with all the Bells and Whistles!
A presentation by historian Jim Turner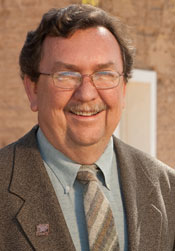 Historian and Tucson resident Jim Turner will present a free program on the history of Arizona at the monthly meeting of the Desert Foothills Chapter (DFC) of the Arizona Archaeological Society (AAS) on Wednesday, May 9 at 7 p.m. at the Good Shepherd of the Hills Episcopal Church, 6502 E. Cave Creek Road in Cave Creek. This presentation is sponsored by the Arizona Humanities Council and is entitled, Arizona's Statehood Centennial With All The Bells And Whistles. The public is invited to attend.

In this hour long presentation, Jim will discuss the unique factors that came together to make the "Baby State" the last of the continental states to be admitted to the Union. He will use historic photos, political cartoons, newspaper articles and anecdotes to describe Arizona's struggle for statehood, describing how the Apaches, border towns, miners, labor unions, Wild West justice and progressive politics provided both obstacles and opportunities towards that goal. In addition, he will provide examples of how play and romance were also part of the Arizona Territory.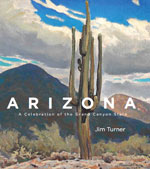 Jim Turner is the recent author of Arizona: Celebrating the Grand Canyon State, a beautiful pictorial book about Arizona and the Centennial. Featured at many local bookstores, this book will be available for purchase and he will be signing copies after the talk.

With a master's degree in history from the University of Arizona, Jim has studied history for over 36 years and over his career has worked with more than 70 museums around the state. Since retiring from his position as historian at the Arizona Historical Society, he is now a freelance editor, teacher, researcher and author. He enjoys writing history articles for state newspapers. He is currently teaching history at Central Arizona College.

The AAS is an independent, non-profit and statewide organization with over 600 professional and avocational members and 16 chapters. Its goals are to foster public awareness, interest, research and conservation of Arizona's rich archaeological heritage, with special emphasis on protecting these scarce resources. The DFC has been active in the Cave Creek area for over 30 years and its members enjoy professional lectures, hikes, classes and research projects.

Please contact President Glenda Simmons at glendaann@hughes.net or visit the AAS website at www.azarchsoc.org.
MAY 2, 2012
Centennial summer volunteers needed for the Arizona Capitol Museum
PHOENIX – The Arizona Capitol Museum needs your help. Join our 2012 Centennial Summer Volunteer Team and help visitors enjoy Arizona's historic Capitol. You'll engage with Arizona's history in the building where statehood began, and get to see behind the scenes as we prepare new exhibits, and update our story.

The Centennial Summer Volunteer Team will monitor exhibit traffic and provide directional assistance to enhance the visitor experience. Trainees will get a chance to sample other assignments in the Museum such as Ambassadors, Store Assistants, and help with our summer organization project. We ask for a minimum of one four-hour (10 a.m. to 2 p.m.) commitment per week from June through September 2012. Training will be provided.
These positions are not tour guides or docents. This is basic training that lays the groundwork for more involvement in the fall.

We at the Arizona Capitol Museum connect people with Arizona's government – past and present. Join us for the summer and you'll become an integral part of the visitor experience. Immerse yourself in history and learn how Arizona government has evolved from territorial times to statehood. Meet visitors from across the country and all over the globe. Work alongside Museum Staff as they guide tours through the Capitol.

Apply now for this special program running from June through September 2012. Applications will be accepted until May 18th and Interviews are being scheduled now. Once accepted, Summer Volunteers will begin training the second week of June.

Applicants must be able to stand for extended periods of time, and in good health. A friendly positive approach to working with the public is important. Training is provided free of charge.

Contact: If interested, please complete the Volunteer Application and specify "Summer Volunteer" or call the Museum Volunteer Coordinator at 602-926-3731. jrc@lib.az.us
http://lib.az.us/museum/volunteer.aspx

MAY 2, 2012
Arbor Day Foundation offers tree-care booklet for $3 donation
The Arbor Day Foundation is offering a handy tree-care booklet designed to help people plant and care for trees.

Anyone can receive the Conservation Trees booklet simply by making a $3 donation to the Foundation.

Conservation Trees is a user-friendly booklet that features illustrations, colorful photos and easily understood descriptions.

"Conservation Trees is an ideal resource for tree planters throughout the country," said John Rosenow, chief executive and founder of the Arbor Day Foundation. "It is important that people know how to properly plant and care for their trees.

"Taking care of existing trees is just as critical as planting new ones," Rosenow continued. "Trees clean the air, keep our water sources pure and conserve energy. Trees provide so many benefits to a community, and that's why it is so vital to take care of them."

The booklet provides details about the right way to plant and prune trees. It also includes tips on using shade trees and windbreaks to save on energy costs, attracting songbirds and creating a living snow fence.

To receive the Conservation Trees booklet, send a $3 check along with your name and address to: Conservation Trees, Arbor Day Foundation, 100 Arbor Ave., Nebraska City, NE 68410, or order online at arborday.org/conservationtrees.