APRIL 18, 2012
Southwest Wildlife to host bear awareness event
Will include live demonstration of bears in campsite and tour of wildlife sanctuary
What: "Be Bear Aware"
When: Sat., April 28 10 a.m. to 12 p.m.
Where: Southwest Wildlife Conservation Center
27026 N. 156th St., Scottsdale (south of Dynamite Road/Rio Verde Drive)

SCOTTSDALE – With the summer months approaching, Southwest Wildlife Conservation Center (SWCC) is helping to prepare campers and hikers for a safe, enjoyable visit to "bear country."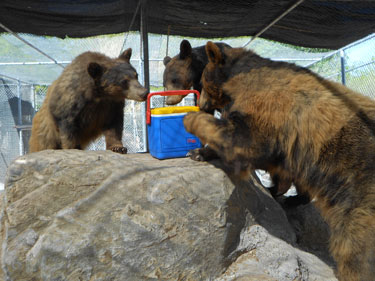 SWCC will host a "Be Bear Aware" event on Saturday, April 28, from 10 a.m. to noon to teach people about bear safety and reducing the risk of attracting wildlife to their campsites, as well as what to do if you encounter a bear.

The event will start with a short talk on black bear habitat, behaviors, distribution in Arizona, and bear-safe outdoor practices, including keeping a clean campsite and "leaving no trace."

Participants will get a tour of SWCC's Nature Center, which will end with a live demonstration of bears released into a messy campsite within an enclosure.

Refreshments will be served during the talk.

Southwest Wildlife is a unique conservation, rehabilitation and sanctuary facility for large mammals, focusing on those native to the Southwest. In addition to black bears, visitors can see mountain lions, coyotes, Mexican gray wolves, bobcats, coatimundis, foxes, raccoons, mule deer, and more at the sanctuary.

Reservations and pre-payment are required, as space is limited:
Children 12 and under $15
Adults and youth over 12 $20

Make reservations by calling the Southwest Wildlife Education Department at 480-471-3621.

For more bear safety information, see SWCC's bear safety flyers.