APRIL 18, 2012
Triple R Horse Rescue Yard Sale rescheduled due to inclement weather
8 a.m. – 1 p.m. on Saturday, April 21
This is the first ever Triple R Horse Rescue Yard Sale so let's help make it a success!
The sale will be held at 37437 N. 11th Ave. (between Cloud and Joy Ranch Road).
Tax-deductible receipts will be provided for donated items and purchases.

If you are available to help out from 7 – 8 a.m. or if you would like to donate items please email Denise at denise@triplerhorserescueaz.com. She will arrange for delivery and/or pick up. Donated items must be received by Thursday, April 19.

Triple R Horse Rescue, a subsidiary of Luv Shack Ranch, Inc., a 501(c)3 non-profit organization is dedicated to the Rescue, rehabilitation and rehoming of neglected, abused, abandoned and slaughter bound horses.

If wish to help but are not able to help with the sale please mail a donation to Triple R Horse Rescue, P.O. Box 4925, Cave Creek, AZ 85327.
APRIL 18, 2012
Mayor's street crew wants you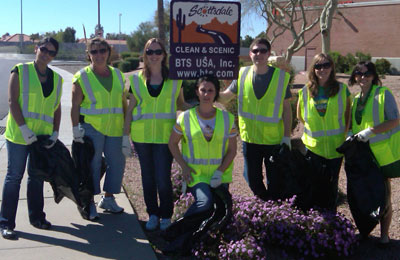 Employees from BTS, an international business strategy firm with an office in Scottsdale, gather to keep their stretch of adopted road clean.
Courtesy photo


Scottsdale's "Adopt-a-Road" program is a simple way the city's residents and businesses chip-in to keep the streets looking good. But Mayor W.J. "Jim" Lane hopes that adopting a high-profile mile of roadway in the Scottsdale Airpark will generate even more interest in the program that already cares for more than 250 miles of streets in Scottsdale.

This Saturday, April 21, is the city's annual "Keep Scottsdale Beautiful 2012" event, when residents and businesses across the city are encouraged to hit the streets to clean up their adopted segments. Past events have typically removed nearly four tons of trash and debris.
Last year, Mayor Lane "adopted" the north Greenway Hayden Loop from Scottsdale Road to Frank Lloyd Wright Boulevard. He and volunteers from the North Scottsdale Chamber of Commerce, Stingray Sushi and other community groups will be sprucing up the street to keep it looking good.

"It's important that we all work together to protect our quality of life, and one way we can do that is by keeping Scottsdale roads clean and safe," says Mayor Lane. "This city has earned its reputation as a special place, and I encourage every Scottsdale citizen to participate in this citywide effort – it only takes a couple of hours, but it makes a big difference."

There are nearly 200 adopted street segments in Scottsdale's program which are maintained by more than 180 groups. But there are 63 other segments that haven't been adopted.

People, businesses and groups that aren't yet involved are encouraged to adopt a road, or participate on a one-time basis on Saturday. Learn more by calling 480-312-3111 or by visiting www.scottsdaleaz.gov and searching for "adopt-a-road".
APRIL 18, 2012
$7 million MCDOT roadway rehabilitation project hits the streets
PHOENIX – The Maricopa County Department of Transportation (MCDOT) has had a busy winter, and there is more roadwork ahead, according to MCDOT officials. MCDOT has begun a $7 million Spring 2012 roadway rehabilitation and maintenance project on 22 more miles of County roadways in areas of the north and west valley, announced Chairman Max Wilson, Maricopa County Board of Supervisors.

As part of this project, two of the heaviest traveled streets in Sun City are up for major pavement rehabilitation this spring – over seven miles of 99th Avenue between Olive Avenue and Beardsley Road and the two and one-half-mile stretch of Del Webb Boulevard between Grand Avenue and Bell Road, said Wilson. Salome Highway between Old US80 and Wintersburg Road and Wintersburg Road between Salome Highway and the Thomas Road alignment are on the list in the far west valley. 7th Avenue between Carefree Highway and Desert Hills Drive, Circle Mountain Road between New River Road and 22nd Street and the northbound I-17 Frontage Road between Plymouth Drive and Old Stage Road are on the list in the New River/Desert Hills community.

Work will include the reconstruction of the top two-inches of pavement and the installation of an asphalt rubber overlay surface treatment using a "rubberized" asphalt overlay paving process which uses recycled pulverized tires from waste management and landfill sites throughout the Southwest.

"This roadway rehab project will extend the service life of these roadways for decades, and, as an additional benefit to our environment, makes good use of thousands of old, discarded tires that would otherwise fill and pollute our landfills," said Wilson. "Moreover, Maricopa County's dedication to maintaining a strict maintenance schedule keeps our roadways safe and minds the bottom line," he added.

In addition to protecting the roadway surface, field-testing indicates that rubberized asphalt achieves noise reductions from three to five decibels quieter than the more traditional asphalt concrete roadway pavement, according to MCDOT Materials Lab technicians. Stretching the dollars even further, MCDOT added a pavement smoothness incentive program for the construction contractor based on the final "rideablilty" or smoothness of the roadway. Roadway surface smoothness not only decreases roadway noise it can also increase travel comfort, and reduce normal vehicle wear and tear.

Overall traffic safety on these roads will also be improved because recently developed thermoplastic roadway striping will replace the standard flat surface painting process for pavement markings and lane striping. This new process provides a brighter and longer lasting reflective image than regular paint, according to MCDOT Traffic Operations experts.
Construction Work Hours will be 6 a.m. to 6 p.m., Monday through Friday, weather permitting. Some evening and weekend work may be required. Only minor traffic lane restrictions are anticipated. Completion of all road segments is scheduled for July 2012.

MCDOT 24-Hour Construction Hotline: 480-350-9288.