APRIL 18, 2012
On Tax Day 2012, a 90 percent high school graduation rate would yield $1.8 billion annually in additional tax revenues, report finds
WASHINGTON, DC – In advance of Tax Day 2012, a new analysis from the Alliance for Excellent Education finds that graduating 90 percent of high school students would generate an additional $1.8 billion annually in tax revenues. Of that total, $1.1 billion would be federal tax revenue while the remainder—nearly $700 million—would be state and local revenue. In Arizona, meeting that goal would boost state and local tax revenues by $13 million.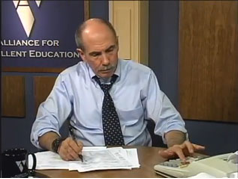 "In these tight fiscal times, governments at all levels are leaving money on the table by not graduating students from high school," said Bob Wise, president of the Alliance for Excellent Education and former governor of West Virginia. "When students earn high school diplomas, they become more marketable in today's highly competitive job market, while the higher earnings they pocket translate into increased tax revenues—all without any increase in the tax rate. It's a win-win."

Based on March 2012 data from the U.S. Bureau of Labor Statistics, the unemployment rate for high school dropouts is 12.6 percent, compared to 8 percent for high school graduates and 4.2 percent for college graduates. When employed, high school dropouts earn about $8,000 less annually, compared to high school graduates.

According to the Averaged Freshman Graduation Rate (AFGR) calculated by the U.S. Department of Education, Arizona has a high school graduation rate of 72.5 percent, 17.5 percentage points below the 90 percent goal set by Grad Nation and envisioned in this analysis.* Raising Arizona's graduation rate to 90 percent as determined by AFGR would mean ensuring that an additional 15,047 students earn their diplomas.

"Tax policy usually finds two groups, those in favor of tax hikes and those in favor of tax cuts, debating about which direction taxes should take," Wise said. "Unfortunately, there is not enough discussion about this third direction—graduating more students from high school. The U.S. Congress is constantly concerned about long-term deficit reduction, but as this analysis shows, decisions on how to close budget gaps and build a strong economy must begin with ensuring better educational outcomes for the nation's students."
The complete analysis is available at all4ed.org/files/TaxDay2012.

The Alliance for Excellent Education is a Washington, DC-based national policy and advocacy organization that works to improve national and federal policy so that all students can achieve at high academic levels and graduate from high school ready for success in college, work, and citizenship in the twenty-first century. For more information about the Alliance for Excellent Education, please visit all4ed.org.
APRIL 18, 2012
2012 BBB Business Ethics Awards finalists announced
PHOENIX – Better Business Bureau (BBB) announces the 15 Arizona companies selected as finalists for the 2012 BBB Business Ethics Awards sponsored by Wells Fargo. Five of the 15 companies will be named winners in their category during the awards dinner and ceremony on Thursday, May 17 at the Arizona Biltmore Resort and Spa.

The BBB Business Ethics Awards were established in 2002 by BBB Foundation to recognize outstanding businesses that maintain a solid commitment to ethics and trust. TV and radio personality Pat McMahon will serve as the master of ceremonies for the seventh year in a row, and Fiesta Bowl Executive Director Robert Shelton will deliver the keynote address. Nearly 400 business and community leaders will celebrate ethics during the May 17 awards dinner starting at 6 p.m.

The 2012 Business Ethics Awards finalists are…

Category I (1 – 10 employees)
Arizona Carpet & Restoration Co. (Phoenix)
Convertabath, Inc. (Tempe)
National Automotive Repair (Phoenix)

Category II (11 – 20 employees)
Integrity Tree Service, Inc. (Scottsdale)
MTS Painting & Property Service, Inc. (Mesa)
Plumbing Masters, LLC (Peoria)

Category III (21-50 employees)
Arizona Fire & Water Restoration, Inc. (Phoenix)
The Biltmore Bank of Arizona (Phoenix)
Mason Mechanical (Mesa)

Category IV (51-150 employees)
Jim Brown & Sons Roofing Co., Inc. (Glendale)
S&S Tire & Auto Service Center (Peoria)
Schumacher European, Ltd. (Phoenix)

Category V (151 + employees)
Auto Body World, Inc. (Tolleson)
Blackstone Security Services, Inc. (Phoenix)
Empire Today, LLC (Phoenix)

Visit www.arizona.bbb.org/ethics for table sponsorship and ticket information or call BBB Foundation at 602-264-2864.