APRIL 18, 2012
Grammy Award winner Lucinda Williams to perform at April 28th "Chickstock" Music Festival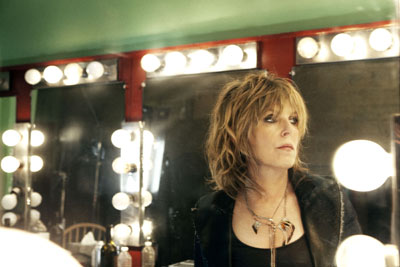 CAVE CREEK – Grammy award winner and American rock, folk, blues and country music star Lucinda Williams (r) will perform along with Jessi Colter and more than 10 other talented acts at the 4th Annual Chickstock Music Festival on Saturday, April 28 at Harold's Corral, 6895 E. Cave Creek Road, in Cave Creek. Doors open at 1 p.m. and live performances will continue through 10 p.m.

Tickets range from $25 for General Admission standing and $35 for General Admission seating to $75 for VIP seats and $150 for Premier VIP tickets. Festival patrons are encouraged to bring their own chairs and blankets. Kids 12 and under are free with a paid adult. Tickets are on sale now via at www.Ticketmaster.com or by calling Harold's at (480) 488-1906.

Co-presented by AZ Chicks with Picks and Harold's Corral, "Chickstock" provides emerging female artists with a unique opportunity to showcase their talent and take a shot at furthering their musical careers. Singing contests are being held at several venues Valleywide and the winners will advance to the semi-finals and finals on Sunday, April 15 and Sunday, April 22 at Harold's Corral.

The Grand Prize winner will receive $1,000, eight hours of studio recording time from Epicentre-Recording.com, a paid gig at Harold's, and she will have an opening spot on the main stage of the Chickstock Music Festival for Lucinda Williams (hit songs include Passionate Kisses, Can't Let Go, and Car Wheels on a Gravel Road). The second place winner will receive four hours of recording time and a Fender guitar from Cave Creek Guitar. A third winner will receive $500 for "Best Original Song."

The Chicks with Picks Foundation is a non-profit that helps female musicians while helping those in need. For more information, call 480-488-1906, e-mail contest@azchickswithpicks.com, or visit www.azchickswithpicks.com or www.HaroldsCorral.com.