APRIL 11, 2012
Kate Tweedy at Tierra Madre Horse Sanctuary
Dinner and tour on Saturday, April 14 at 5 p.m.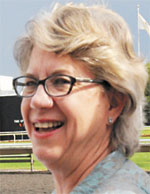 Kate Tweedy, daughter of Penny Chenery (Tweedy), breeder and owner of the greatest of them all – SECRETARIAT – will give a lecture and audio-visual presentation on the champion and her book, "Secretariat's Meadow," at Tierra Madre Horse Sanctuary.

She will discuss the horse, his races and the farm he called home. Personalized autographed books will be available.

Dinner and drinks will be available for a nominal donation and guests will be given a tour of Tierra Madre to meet all 30 horses.

Dinner will be provided by The Smokehouse and music by Hatman Dan.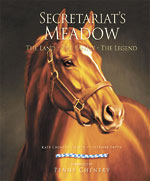 Date & Time: Saturday, April 14, 5 p.m.
Place: Tierra Madre Horse Sanctuary, 27115 N. 45th St.,
Cave Creek, AZ 85331
Donation: $10
Please Call for Reservations: 480-747-1070.

www.TierraMadreHorseSanctuary.org
A 501(c)(3) Non-Profit Organization.

Presented by Johnson Bank.
APRIL 11, 2012
Triple R Horse Rescue Yard Sale on Saturday, April 14
Got muscles? A couple of strong guys are needed to help move heavier items the morning of the yard sale. It's not too late to donate items. This is their first ever yard sale so let's help make it a success!

The sale will be held from 8 a.m. – 1 p.m. at 37437 N. 11th Ave. (between Cloud and Joy Ranch Road).

Tax-deductible receipts will be provided for donated items and purchases.

If you are available to help out from 7 – 8 a.m. or if you would like to donate items please e-mail Denise at denise@triplerhorserescueaz.com. She will arrange for delivery and/or pick up. Donated items must be received by Thursday, April 12.

Triple R Horse Rescue, a subsidiary of Luv Shack Ranch, Inc., a 501(c)3 non-profit organization is dedicated to the Rescue, rehabilitation and rehoming of neglected, abused, abandoned and slaughter bound horses.

If wish to help but are not able to help with the sale please mail a donation to Triple R Horse Rescue, P.O. Box 4925, Cave Creek, AZ 85327.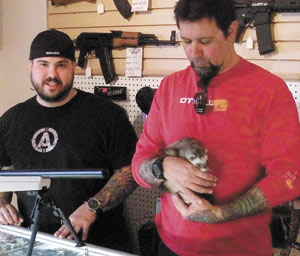 APRIL 11, 2012
Cave Creek Armory's mascot
Owners Joe Soucy (left) and Jeff Iacovelli show their unusual mascot, Cooter, a 10 month old ferret. And yes, Cooter is friendly.

Photo by Don Sorchych