APRIL 11, 2012
Safety is paramount when you're out on a boat
PHOENIX – Temperatures are warming up, and that means more people will be taking to Arizona's waterways for boating fun in the sun.

While a day on the water offers relaxation and recreation, safe boating practices are key to enjoying your outing.

The most important thing to do when on the water is to be "situationally aware," said Kevin Bergersen, state boating law administrator with the Arizona Game and Fish Department. That means know what is going on around you, and that conditions on the water can change quickly.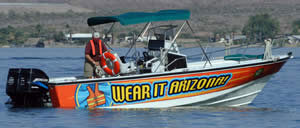 "In high winds, rough conditions, stormy weather and at night, break out the life jackets and put them on," Bergersen said. "When things start to look bad, it could be bad."

Already this year a 21-year-old man drowned on March 24 after he fell off an inner tube while being towed by a boat near Windsor Beach on Lake Havasu. Preliminary indications are that the man, whose body was found Monday, was not wearing a life jacket, according to the Mohave County Sheriff's Office. The accident is still under investigation.

Bergersen said to remember to Boat Safe, Boat Smart and Boat Sober.

Boat safe by avoiding waterskiing in congested areas, steering clear of nearby boaters, avoiding excessive speeds while towing skiers, knowing your limits, and retrieving skiers rapidly from busy waters. Boaters should always travel in a counterclockwise direction while on the water.

"Boaters should keep the closest shore over their right shoulder, and they shouldn't cut blind corners where oncoming boaters can't see them," Bergersen said.

In addition, he said, all people on board must have a readily available, properly sized U.S. Coast Guard-approved life jacket. Children 12 and younger must wear them anytime a boat is under way; there is no mandatory wear law for those older than 12. If you don't want to wear a life jacket all the time, Bergersen said, it is critical that you put one on at night, in storms and when the water is cold.

Boat smart by taking a boating safety education class and learning the navigation rules of the waterways. Educated boaters are safer boaters. Boating accident statistics show that more than 70 percent of all boat operators involved in accidents have not attended any formal boating safety education classes. An online course may be found at boat-ed.com/Arizona.

Boat sober by having a designated boat operator. Consuming alcohol is allowed on a boat, but the operator cannot be under the influence of alcohol (known as Operating Under the Influence, or OUI). Just like driving a motor vehicle under the influence, the legal limit for blood alcohol while operating a boat is .08. OUI is a Class One misdemeanor. You can be arrested.

"Booze and boats don't mix," Bergersen said, noting that alcohol is a contributing factor in 40 percent of all fatal recreational boating accidents in Arizona.

For more information, please visit: www.azgfd.gov/boating.