APRIL 11, 2012
DFT presents 'Picnic' April 12-22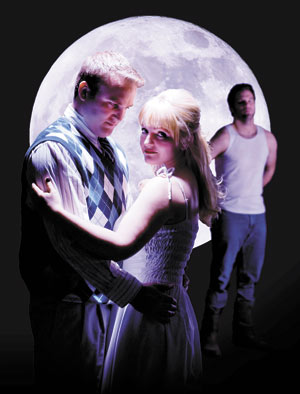 SCOTTSDALE – Conflict, tender-ness, love and betrayal make Desert Foothills Theater's produc-tion of "Picnic" an engaging drama. Written by William Inge, the play captures the essence of how one person or incident can wake up a routine or mundane life and offer the opportunity for change by choice. The show runs April 12-22.

Performances are at the Black Box Theater of Cactus Shadows Fine Arts Center, 33606 N. 60th Street, in North Scottsdale. Show times are at 7:30 p.m. for the Thurs., April 12 Preview Night; Fridays and Saturdays at 7:30 p.m. and Sundays at 2 p.m. A special 2 p.m. matinee is also set for Sat., April 21. Tickets range from $15 to $20 for children under 18, and from $22 to $30 for adults. Visit www.desertfoothillstheater.com or call 480-488-1981.

Courtesy photo: Starring in "Picnic": (l-r) Mike Van Liew; Candy Stanton; and Chad Krolczyk in background.