APRIL 4, 2012
Cave Creek Trail Run
Spur Cross Ranch Conservation Area parking lot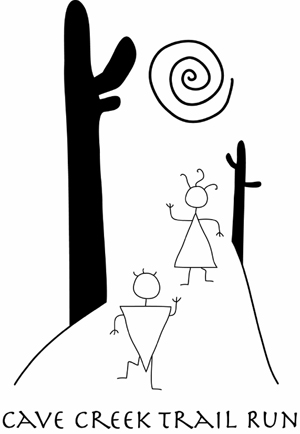 Come out to the State Trust Land near Spur Cross Ranch for a 10K run, a 5K run/walk, or a 2K kids' fun run - all to support the protection of 4,000 acres of open space in Cave Creek! Pre-registration is required. Additionally, volunteers are still needed. Join the Town of Cave Creek in this race to protect some of our community's most treasured open space!

10 K Trail Run starts at 7 a.m. Saturday, April 7

Just North of Cave Creek is some of the most pristine Sonoran Desert you will find in all of Arizona. With its isolation there is a tremendous amount of flora and fauna, a perfect setting for a trail run. The trails are primitive, primarily used by equestrians.

The route will take you down through sandy washes, up over hills and down them too, over loose rock and stiff ones. Don't forget your comb and tweezers. You will go through an amazing saguaro stand and have breathtaking views of the surrounding area. Your best view will be once you climb "Heart-attack Hill." A climb of 220 feet in just 1/3 of a mile. All in the name of saving this Open Space.

Keep an eye out for an egg. There will be one egg out on the course. Whoever finds it and brings it back will receive a special prize. With your participation you will help ensure it remains as Open Space forever.

The one and only water stop is 3.5 miles into the route. Please plan accordingly. It could be quite warm so we are advising that you carry you own water so you can stay properly hydrated.

Thank you for your support. We look forward to seeing you out on the trail.

To print up a registration form and mail it in, click HERE.
APRIL 4, 2012
Summer trout stocking schedule goes hi-tech
PHOENIX – Ever wondered where the feisty rainbow trout are stocked along Christopher Creek or Tonto Creek by the Arizona Game and Fish Department? Well, just click here.

Thanks to a new hi-tech online interactive trout stocking schedule just released by Arizona Game and Fish, you can now find out where trout are stocked, especially along streams, and also see maps of the fisheries as well.

"Anglers routinely call asking 'where do you stock trout' at one water or another, especially the streams. This interactive stocking schedule goes a long way toward answering that question," said Scott Gurtin, the hatcheries program manager for Game and Fish.

The map was Scott's brain child. "Another cool feature is you can enter your starting address and have Google maps show you the way to the fishing spot," Gurtin said.
So not only does the spring-summer trout stocking season kick into gear the first week of April, it's easier than ever to find out where the fisheries are located, how to get to them, and when feasible, know when and where the trout are stocked.

It's time to get your trout fishing gear ready because this is the leading edge of the great spring fishing.

"To me, it's pretty exciting. Today's technological advances and applications such as Google maps allow us to better serve our angling customers," Gurtin said. "Be sure to get your 2012 fishing license."

There is also a new interactive online fishing map available at gis.azgfd.gov/fishandboat to make it even easier to gather information about fishing locations, and to travel to them.

Don't forget that you can also sign up at www.azgfd.gov to have the weekly fishing report delivered directly to your computer, smart phone or other e-mail-friendly device.

Go catch some memories!