APRIL 4, 2012
Desert Foothills Theater presents 'Picnic' April 12-22
CAVE CREEK – Desert Foothills Theater (DFT), a division of the Foothills Community Foundation, continues its season with "Picnic" set for Thurs., April 12 through Sun., April 22 in the intimate Black Box Theater of Cactus Shadows Fine Arts Center, 33606 N. 60th Street, in North Scottsdale. Show times are at 7:30 p.m. for the Thurs., April 12 Preview Night; Fridays and Saturdays at 7:30 p.m. and Sundays at 2 p.m. Tickets range from $15 to $20 for children under 18, and from $22 to $30 for adults.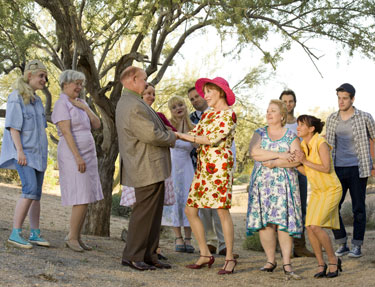 "Picnic" premiered on Broadway in 1953 and was Paul Newman's first Broadway debut. Directed by Diedre Kaye, "Picnic" is a drama that takes place in 1953 over Labor Day weekend in a small Kansas town. The plot centers around two neighbors: Flo Owens, a widow, lives in one home with her two maturing daughters, Madge and Millie, and their boarder, a spinster school teacher. Helen Potts and her elderly and invalid mother reside next door. Into this all-female setting comes a young man named Hal Carter, whose animal vitality seriously upsets the entire group and uncovers a world of longing and lust hidden beneath the perfect facade.

Visit www.desertfoothillstheater.com or call 480-488-1981.
APRIL 4, 2012
The spirit of Edward Abbey lives on from the Southwest to the East Coast!
NORTHERN ARIZONA – Southwest Filmmaker, ML Lincoln, is in post-production on her feature documentary, Wrenched: the Legacy of the Monkey Wrench Gang. The documentary traces how Edward Abbey's groundbreaking novel The Monkey Wrench Gang, forever changed the course of the environmental movement. Wrenched follows the path of radical activism through Earth First! and into the current tactics of monkeywrenching that carry on the legacy of his writing.

Recently East-Coasters, Kurt Engfehr and Emmy-award-winning editor, Patrick Gambuti, Jr. have joined the film's team. Engfehr is co-producing the documentary. His previous credits include producer and editor on Bowling For Columbine and Fahrenheit 9/11, co-writer and co-director on Fat Sick and Nearly Dead and editor on Trumbo.

Gambuti comes on board as editor. He recently finished co-writing and editing the documentary Greedy Lying Bastards, and also edited and co-directed At the Edge of the World.

Engfehr has been an Abbey fan since his teens in Detroit, when he first read The Monkey Wrench Gang. "I discovered the book at around the same time I went to Arizona. It was my first time west of Michigan and I just couldn't believe how beautiful and different the landscape was." Along with a love for the West, the story also prompted his interest in the environment and his later involvement with Earth First! in Chicago. "Abbey's ethos has stuck with me and I look forward to sharing it, along with the mind-blowing beauty of the Southwest, before it's gone."

Gambuti came to the project with a profound affinity for the Southwest. Spending part of his youth in Texas, he traveled through the Southwest on many occasions and credits these trips for his environmental activism. "My upcoming documentary, Greedy Lying Bastards, exposes the fossil fuel industry and it's denial campaign against climate change which impacts every one of us. I was excited to take on this project because it deals with our battle to save our world but from a very grassroots and regional perspective."

Wrenched will include interviews with Abbey's friends, writers and activists such as Paul Watson, Terry Tempest Williams, Tim DeChristopher, Dave Foreman, Robert Redford, Charles Bowden, Kieran Suckling, Doug Peacock, Katie Lee and Jack Loeffler, among many others who played a significant role in the creation of The Monkey Wrench Gang.

Through the lens of Abbey's anarchistic spirit and humor, Wrenched looks at the ever-widening schism between development and conservation in the American Southwest.
The film is scheduled to finish post-production by the end of this year. For more information, you can visit www.wrenched-themovie.com or become a fan on www.facebook.com/wrenchedthemovie.com.