MARCH 28, 2012
Cycle the Arts event fun for entire family
Participate in other Valley Bike Month events too!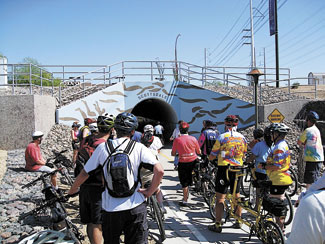 Hop on your bike and get an up close, personal look at Scottsdale's public art at the 7th Annual Scottsdale Cycle the Arts event Sunday, April 1, starting near the entrance to the Scottsdale Museum of Contemporary Art (SMoCA).

It's free and fun for the entire family. Learn fun and interesting facts about each public art piece along a guided seven-mile route from artists and knowledgeable speakers including Arizona artists Mary Lucking and Erin Sotak, as well as international artist Ilan Averbuch. Event includes four major stops with a water and facilities break.

Registration starts at 8:30 a.m. with small groups of riders departing at 9 a.m. For your safety, helmets are required. After your ride:

Enjoy FREE admission to SMoCA as part of Bike to SMoCA Day

Stay for the Sunday A'Fair in the Scottsdale Civic Center for the Performing Arts featuring Sonoran Jazz from 12 to 1:30 p.m. and Sugahbeat from 2 to 4 p.m. with an afternoon art tour of public art sculptures at 3 p.m. View 100+ Journals exhibit at Civic Center Library at 1 p.m.

Visit http://www.scottsdalepublicartblog.org/cycle-the-arts.html for more information.

For more valley wide Bike Month events visit: http://www.valleymetro.org/bike_month/events/.

Cycle the Arts is presented by the City of Scottsdale Transportation Department and the Scottsdale Cultural Council. For more information, go to www.scottsdaleaz.gov/topics/transportation.