BY MARIELLE D. MARNE | MARCH 28, 2012
New location, same stellar service from massage therapist Gina Tatum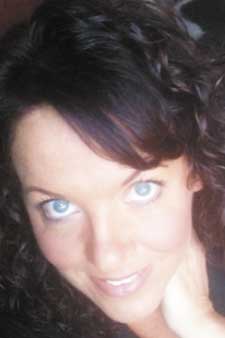 CAREFREE – Gina Tatum, LMT, NCTMB, is eager to welcome clients, current and new, to her massage studio located at 201 Easy St. above Carefree's English Rose Tea Room. She moved March 1 and has larger quarters, an elevator for those with injuries that may be challenged by stairs, private, covered parking, a cozy waiting room and adjacent restrooms.

While she's still getting settled, Tatum plans to eventually add group mediation and Reiki classes. "Like" her on Facebook to learn the latest.

Many believe a massage therapist is only beneficial when you're hurt. Not so, Tatum assures. Yes, oftentimes, post-surgery, massage helps to restore range of motion and reduce pain.

However, if you golf, for instance, "I have golfers come in so we can loosen up the shoulder for a better game," she explained. "What excites me is I am really seeing results with my clients through various treatments."

Tatum offers a range of therapies. She listens and individualizes a plan. "I made it my solemn vow that every client will get my very best every single time," she offered. Tatum has such success that people within both the healthcare industry and her own come to see her. "I massage massage therapists!" she added. They are the first to champion the benefits of massage and are impressed with Tatum's compassion and skills. And it doesn't hurt that Tatum believes in lifelong learning and pursues additional certifications as well as innovative techniques.

See for yourself. Schedule today at 623-760-6545.
BY MARIELLE D. MARNE | MARCH 28, 2012
Frumpy house? Let R&G Custom Homes work its remodel magic!
CAVE CREEK – Love your house but it's become dated? Or, was it not quite everything you wanted upon move-in? Old, new or even a rental or office, Greg Woolf of R&G Custom Homes can help you beautify or update your investment. Woolf has over 25 years experience in the home building/remodeling business. He has an extensive portfolio of before and after photos potential clients may peruse for ideas. He also has countless referrals who will champion his work.

The R&G Custom Homes team will tackle all remodel jobs, big or small. Currently they are doing kitchen and bath remodels as well installing new flooring. "We are removing a lot of the white tile in many older homes and replacing it with earth tones," Woolf said. Of course, as a general contractor, Woolf can, and does, do it all. "We do painting, tile, electrical, plumbing, additions," he added. Woolf is often hands-on and rolls up his sleeves to do the work himself. R&G Custom Homes is his company, so he takes pride in what he does and stands behind the work.

"Despite volatile times in the housing industry, we're still in the business and we intend to stay in the business," Woolf assured. Because of his integrity, he remains busy through word of mouth referrals. "I establish long-term relationships with many of my customers. I've made many friends from clients. I make sure it's a good relationship from start to end and beyond."

If a home sale is in your future, you'll get top dollar if you invest in remodeling. If you intend to stay, you'll get utmost enjoyment having it spruced up and modernized. In either case, today or in the future, call Greg at R&G Custom Homes at 480-540-1710.
MARCH 28, 2012
Top 10 cities and states for job growth
TEMPE, Ariz. – With the U.S. economy started on the mend, it's interesting to note which cities and states are growing the fastest. Research Professor Lee McPheters of the W. P. Carey School of Business at Arizona State University provides rankings and analysis based on the latest jobs figures from the U.S. Bureau of Labor Statistics.

Top 10 cities and surrounding metro areas (1 million or more workers) for non-agricultural job growth, comparing January 2011 to January 2012:
Houston – up 3.7 percent
Atlanta – up 3.1 percent
Denver – up 2.5 percent
Dallas – up 2.4 percent
Seattle – up 2.2 percent
Cincinnati – up 2.1 percent
Phoenix – up 1.9 percent
Riverside, Calif. – up 1.7 percent
Tampa, Fla. – up 1.7 percent
Pittsburgh – up 1.6 percent

Top 10 states for non-agricultural job growth, comparing January 2011 to January 2012:
North Dakota – up 6.3 percent
West Virginia – up 2.6 percent
Utah – up 2.6 percent
Texas – up 2.5 percent
Louisiana – up 2.4 percent
Oklahoma – up 2.2 percent
Georgia – up 2.2 percent
8. Colorado – up 2.1 percent
9. Tennessee – up 2 percent
10. Kentucky – up 1.9 percent

Analysis:
The overall growth rate for the United States, comparing January 2011 to January 2012, was 1.5 percent. The actual number of jobs went up by 1.986 million nationwide.

"As far as the cities, Houston and Dallas have fared especially well since they're located in Texas, a state that has stayed ahead of most, throughout the recession and recovery," explains McPheters, who is director of the JPMorgan Chase Economic Outlook Center at the W. P. Carey School of Business.

Looking at the states, McPheters notes, "One common theme among those doing well on the list is the use of natural resources at a time of high energy prices. North Dakota, Texas, Louisiana and Oklahoma are all oil-producing states, and West Virginia and Utah mine coal. North Dakota has ranked first for 33 consecutive months."

McPheters explains many of the states at the top of the list also have a relatively small labor force, so even a modest boost can register as a big jobs percentage gain. For example, first-place North Dakota added 23,900 jobs year-over-year, while Texas only ranked fourth, even though it added 262,100 jobs.

Four states continued to lose jobs year-over-year: Alaska, Missouri, Rhode Island and Wisconsin. Wisconsin has ranked last for the past three months, and employment there was down by 19,400 workers in January compared to the prior year.

"Here in Arizona, the state ranked No. 12 in job creation," says McPheters. "That's a vast improvement from last year at this time, when it ranked No. 40."

McPheters expects to see states in the Southwest and Southeast begin to push up in the rankings by the middle of the year. These are the states that typically do well during big-growth periods, benefitting from desirable climates and industries like construction and health care.

More analysis from McPheters, including population numbers, can be found at KnowWPCarey, the school's online resource. McPheters also compiles current and historical job-growth data at his "Job Growth USA" website.

The W. P. Carey School of Business at Arizona State University is one of the top-ranked and largest business schools in the United States. The school is internationally regarded for its research productivity and its distinguished faculty members, including a Nobel Prize winner. Students come from 99 countries and include 60 National Merit Scholars. For more information, please visit wpcarey.asu.edu and http://know wpcarey.com.