MARCH 21, 2012
Game and Fish Outdoor Expo to offer new attractions, old favorites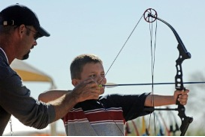 PHOENIX – Outdoor enthusiasts won't want to miss the annual Arizona Game and Fish Department Outdoor Expo on March 31 and April 1 at the Ben Avery Shooting Facility in Phoenix. Arizona's largest hands-on outdoor expo drew more than 37,000 people last year.

The family-friendly expo offers loads of activities, exhibits and presentations for everyone ranging from novices to seasoned outdoor recreationists. Best of all, admission and parking are free.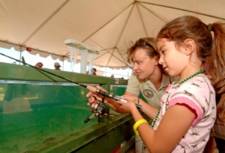 All of the favorite attractions and activities from past years' expos will be offered, including live wildlife exhibits, the huge catch-and-release fishing tanks for kids, target archery, camping demos, the opportunity to try out target shooting on the range, rock crawler demonstrations, field courses, presentations on wildlife and outdoor recreation, and the chance to visit with more than 140 exhibitors, including outdoor organizations, government agencies, and vendors of outdoor products and services.

There are some new attractions at this year's expo. Drivers can test-drive a Jeep on a dirt driving course. An expanded boat show will display boats of all varieties, including pontoons, sport boats, fishing boats, cruisers, wakeboard boats, and more. New and used boats will be available for sale by dealers.

The Arizona Mounted Cowboy Shooters Association will have two full days of exciting competition at the Royce W. Anderson Family Arena on the expo grounds. The grand entrance of riders (approximately at 11 a.m. both days) shouldn't be missed.

Among the scheduled demos are exhibition shooter Tim Bradley, who will put on an amazing display of clay target shooting at 11 a.m. and 2 p.m. each day, and Randy Ulmer, a member of the National Bowhunters Hall of Fame, who will periodically conduct archery demonstrations both days.

Although admission to the expo and parking are free, you might want to bring a little cash to purchase food and beverages from the variety of concessionaires who will be on the expo grounds, or if you are interested in purchasing outdoor-related products from the various vendors who will be on site. For those wanting to try out firearms on the range, there is a nominal fee for ammunition at some of the shooting venues.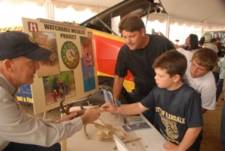 Hours are 9 a.m. to 5 p.m. on Saturday, March 31, and 9 a.m. to 4 p.m. on Sunday, April 1.
Gold sponsors of the Arizona Game and Fish Department Outdoor Expo are Cabela's and Airpark Dodge/Ram/Chrysler/Jeep.

The Ben Avery Shooting Facility is located at 4044 W. Black Canyon Blvd. in Phoenix (located on Carefree Highway, about 1/2 mile west of I-17 – just follow the signs).

The Arizona Game and Fish Department is operated on a "user pay, user benefit" business model. The Outdoor Expo promotes wildlife-related and other outdoor activities to the public, which supports the department's mission and funding through their engagement in those activities. The department receives no Arizona tax dollars, and no tax dollars are used in conducting the Expo.

For more information on this year's Outdoor Expo, visit www.azgfd.gov/expo.