MARCH 14, 2012
World Down Syndrome Day – Wednesday, March 21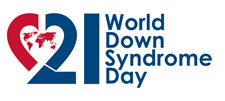 March 21, 2012 marks the 7th anniversary of World Down Syndrome Day. Each year the voice of people with Down syndrome, and those who live and work with them, grows louder. But there is still so much more we can do.

Down Syndrome International encourages friends all over the World to choose your own themes, activities and events to help raise awareness of what Down syndrome is, what it means to have Down syndrome, and how people with Down syndrome play a vital role in our lives and communities.

For this purpose we have a dedicated website www.worlddownsyndromeday.org. For 2012, they relaunched this website with new features. You can register and share details of your activities and events with the global community.

Join the cause to create a single global voice for advocating for the rights, inclusion and well being of people with Down syndrome on March 21.
MARCH 14, 2012
Governor Brewer signs Family Adoption Bill
PHOENIX, State Capitol – Governor Brewer Tuesday signed SB 1128, a bill sponsored by Senator Sylvia Allen that should speed certain adoptions for Arizona families.

In Arizona, the courts are required to conduct a home study to determine if a particular adoption is in the best interests of the child. This new law now requires that the home study consists only of a criminal records check and a central registry records check if the prospective adoptive parent is the child's step-parent or the adult sibling, aunt, uncle or grandparent.

"I am so grateful that Governor Brewer signed SB 1128, the family adoption bill. This will allow families to be able to adopt close relatives without spending thousands of dollars. For many families, those costs mean the family adoptions don't happen," says Senator Allen.

SB 1128 also shortens the time required for the prospective adoptive parent to have lived with the child, from one year to six months.