MARCH 7, 2012
Warmer temperatures mean snakes are active
Organization helps people and reptiles coexist
What: Scales and Tales Fundraiser with silent and live auctions, entertainment, blackjack, poker and more, to benefit the Phoenix Herpetological Society
When: Sat., March 10, 6 to 10 p.m.
Where: Phoenix Zoo, 455 North Galvin Parkway, Phoenix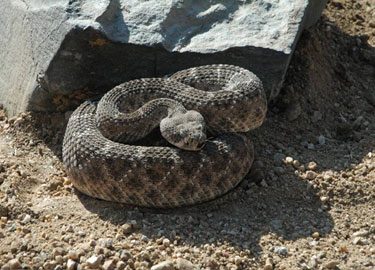 SCOTTSDALE – As the weather warms, the Phoenix Herpetological Society has begun receiving calls to remove snakes around homes.

With at least four calls to remove snakes in the last couple days, the organization wants to remind people about living safely with wildlife:

• Look where you are stepping or reaching when outdoors
• Avoid putting your hands or feet in areas where you can't see
• Carry a flashlight after dark
• If you encounter a snake, stop and slowly walk away in opposite direction

Snakes hide in shady or damp areas such as under plants, particularly if there is a drip system, among rocks, and even under pool toys left on the cool deck.

Homeowners often put themselves at risk when trying to deal with a snake on their property. An estimated 80 to 90 percent of rattlesnake bites happen when homeowners take matters into their own hands.

Phoenix Herpetological Society also wants people to understand that killing a snake or other reptile isn't the best way of dealing with these creatures. "We teach the public that wildlife plays a major role in our world, and that we are encroaching on their homes," says Russ Johnson, President of Phoenix Herpetological Society. "We can co-exist if we understand how."

Fundraiser will Support Continued Education and Conservation Efforts
Phoenix Herpetological Society's annual fundraiser, "Scales and Tails," will help the nonprofit organization continue its work of rescuing and relocating reptiles, and educating children and adults about living safely with native wildlife or keeping reptiles as pets.

The casino night event on Sat., March 10, will feature silent and live auctions, live entertainment, blackjack, poker and more. The fundraiser will be held from 6 to 10 p.m. at the Phoenix Zoo, 455 North Galvin Parkway, in Phoenix.

Cost to attend is $100 per person by mail or $95 when registering and paying online. The cost includes a Polynesian dinner, hosted bar until 6:45 p.m., a raffle ticket, gambling chips and an evening of fun while supporting a great cause.

To register, go to www.phoenixherp.com. Email debbie@phoenixherp.com or call 480-513-4377, ext. 4, with any questions about registering.