FEBRUARY 29, 2012
Gary Fillmore's book "Shadows on the Mesa; Artists of the Painted Desert and Beyond"
foundation of MNA exhibit
Blue Coyote Gallery owner and MNA exhibit co-curator to present Arizona Centennial lecture April 21


Gary Fillmore's book "Shadows on the Mesa; Artists of the Painted Desert and Beyond" is the foundation for the Museum of Northern Arizona's newest exhibit of the same name, a tribute to the artists who stayed at the Wetherill-Colville Guest Ranch from 1919 to 1941. The exhibit is open through Memorial Day, May 28, 2012.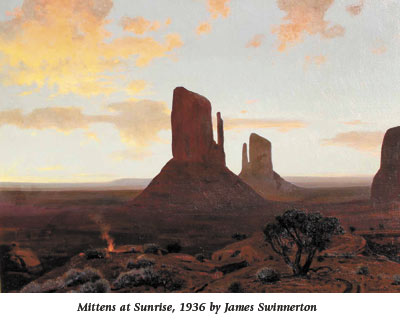 Among the featured artists are Louis Akin, Carl Oscar Borg, Mary-Russell Ferrell Colton, Kate Cory, Maynard Dixon, Lillian Wilhelm Smith, William Robinson Leigh, James Swinnerton, Gunnar Widforss, and others.

These same painters are highlighted in Gary Fillmore's book, which may be pre-ordered now through Amazon and will soon be available in the Museum's Bookstore.

According to Fillmore, as he was researching material for another book, "It was just one sentence in Donna Ashworth's Arizona Triptych which captivated me and eventually led to the creation of this book: "No notes were kept of the conversation around the dining table, where Louisa (Wetherill) sat at the head in front of the kitchen door."

With few exceptions, those chosen by Fillmore for inclusion in the book had to have signed their names in the Wetherill-Colville guest registry.

Fillmore said, "Shadows on the Mesa explores the similarities and differences in the lives, artistic styles, and beliefs of the men and women who considered northern Arizona their favorite region. None were part of any major colonies or schools. They chose to be defined solely by their work. From a commercial standpoint, their reluctance to do so was more often than not a detriment. But the result, in nearly every case, was the cultivation of a signature style and a reputation for being fiercely independent that has served their legacies well. To the end, they remained true to themselves and their visions."

Fillmore will present "Parallels and Contrasts of Notable Early Twentieth Century Artists," an Arizona Centennial lecture accompanying this exhibit, on Saturday, April 21 at 2 p.m. What did Maynard Dixon have in common with Ansel Adams and James Swinnerton? Gunnar Widforss and Carl Oscar Borg were born in Sweden in the same year, yet their lives and artistic careers could not have turned out more differently – how and why?

The Museum of Northern Arizona is located on Highway 180, three miles north of historic downtown Flagstaff. It is open 9 a.m. – 5 p.m. daily. Admission: $10 adults, $9 seniors (65+), $7 students (with student ID), $6 youths (10–17), and $6 American Indians (10+).