BY LINDA BENTLEY | FEBRUARY 15, 2012
Celebrate Arizona's statehood with Cowboy Action Shooting
Winter Range at Ben Avery has grown to be the world's largest 'Western Encampment'
PHOENIX – It would be hard to think of a better way to celebrate Arizona's Centennial than by reliving Arizona's cowboy history at the 20th annual Winter Range event from Feb. 20-26 at the Ben Avery Shooting Facility.. Keep reading ...
BY LINDA BENTLEY | FEBRUARY 15, 2012
Recalling judges, a sticking point for Arizona's statehood
Before President Taft would sign a bill granting the Territory of Arizona statehood, it had to eliminate the judicial recall from its Constitution
WASHINGTON – In 1910, the Arizona Territory was authorized to hold a constitutional convention at which it drafted a state Constitution, which was submitted to and approved by Congress. Keep reading ...
BY LINDA BENTLEY | FEBRUARY 15, 2012
Obama ballot battle continues
Judicial Watch, Freedom Watch founder joins Obama Ballot Challenge team to boot Obama from ballot in Florida and California
NAPLES, Fla. – Sam Sewell, the Obama Ballot Challenge Project manager for the state of Florida, announced last week that Attorney Larry Klayman, founder of Judicial Watch and Freedom Watch, has joined their team to file ballot eligibility challenges against Obama in both Florida and California. Keep reading ...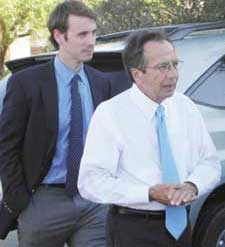 BY LINDA BENTLEY | FEBRUARY 15, 2012
Rep. Ben Quayle to address Cave Creek constituents Tuesday
Rep. Ben Quayle, R-Dist. 3, (l) pictured with Cave Creek Mayor Vincent Francia, will be speaking during the Cave Creek Council meeting at 7 p.m. on Tuesday, Feb. 21 to address constituents' concerns about the redistricting boundaries and the concerns that have pitted him against fellow Republican David Schweikert from District 5.
FEBRUARY 15, 2012
Cave Creek Fiesta Days Rodeo and Parade set for March 28 – April 1
34th Annual Event Features Top-Ranking Male & Female Rodeo Contestants, Festive Parade through Cave Creek, Rodeo Dances, Mutton Bustin' & More
CAVE CREEK – Mark your calendar to attend one of the Valley's biggest events, Fiesta Days™ Rodeo, set for Wednesday, March 28 through Sunday, April 1 in Cave Creek!
Keep reading ...
FEBRUARY 15, 2012
Fool me once, fool me twice …
WASHINGTON – Congressman David Schweikert (R-AZ) released the following statement Monday after President Obama released his Fiscal Year 2013 Budget request which calls for unprecedented levels of spending and debt increases and tax hikes: Keep reading ...
FEBRUARY 15, 2012
Governor Brewer lauds federal pilot project designation for Arizona's Four Forest Restoration Initiative
PHOENIX – Governor Jan Brewer today announced that Arizona's Four Forest Restoration Initiative (4FRI) has been designated a pilot project by the Council on Environmental Quality. The pilot project is aimed at identifying best practices for forest restoration management across the country. Keep reading ...