BY MARIELLE D. MARNE | FEBRUARY 15, 2012
For three years, Mojito Cigar Lounge has blown away competition!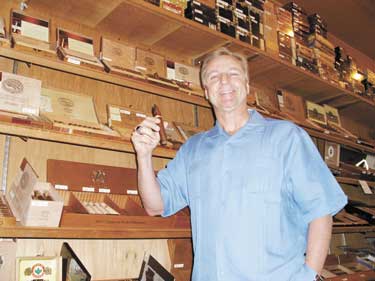 CAVE CREEK – In more ways than one, Mojito Cigar Lounge is a smokin' place. Owner Bill Niederer (r) knows you have one chance to make a good first impression. So when customers walk into the cigar lounge, he assures they feel comfortable, welcomed, valued. Mojito Cigar Lounge is larger than your average lounge, so you can sit, visit and hang out without feeling crowded. There's an extensive cigar selection including My Father, Padron, Fuente, Davidoff, and they are appointed merchants for several limited editions.

It's not simply cigars they sell. (Though be sure to browse the 500 SF walk-in humidor.) There's a full line of accessories: humidors, lighters, ashtrays, cutters and many styles, colors and brands of each. Looking for a gift for a cigar lover? The folks at Mojito Cigar Lounge are more than happy to advise you so you can choose aptly. As a matter-of-fact, manager Ron Alred is a certified retail tobacconist, the very first in Phoenix, so he knows his "sticks." There's everything for beginners to cigar aficionados. Just ask!

Mojito Cigar Lounge boasts a special honor in that it was the first My Father Cigar Lounge. The members-only section holds supple leather chairs, keyed lockers, TVs and a kitchenette. Or, on glorious Arizona days, enjoy a smoke on the patio. The scenery is breathtaking, the camaraderie is abundant and the service surpasses excellence.
Stop in Mojito Cigar Lounge seven days a week at 4705 E. Carefree Hwy. and check out the offerings. For details, go online at mojitocigarlounge.com, join them on Facebook and Twitter or phone 480-595-PUFF.
BY MARIELLE D. MARNE | FEBRUARY 15, 2012
Prefer peace of mind? Then you need Peace Properties as your property manager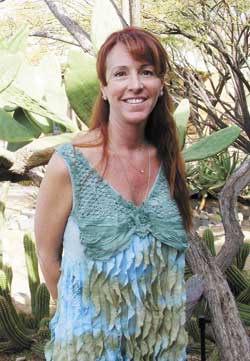 Whether you're an investor who purchased several properties to rent or a homeowner who is a "forced" or unintentional landlord, property manager Kori Kuhn (l) of Peace Properties is a valuable asset. There's a reason it's called Peace Properties, as it truly offers peace of mind in either scenario.

Kuhn has been in the property management business for 14 years. She is also a real estate broker, so she can help you find property should you wish to take advantage of inexpensive homes to rent. She can discuss the pros and cons of embarking on such a venture. You can count on honest and accurate advice. "I can tell you what you can and can't do, how long houses in an area remain vacant, what you can really expect to receive as to rent payments," Kuhn said.

She's very hands-on and protects the interest of her client, the property owner. "I really do treat every one of my properties as if it was my own." Kuhn tries to use smaller contractors for repair work and welcomes those who strive for excellence and offer competitive prices to network with her. Of course, she's never without her own tools should something arise that she can fix herself. "I'm a problem solver; I like to find solutions," she added.

Rental transactions often go smoothly, and you can count on Kuhn to handle routine drive-by inspections, rent collection, potential renter screenings, revenue and expense statements and even direct deposits to homeowners' banks. There's never been a better time to look into buying and then leasing, and there's not a better expert to have at the helm as a property manager than Kori Kuhn. Call her at 480-414-2769 or visit peacepropertiesaz.com.
The Antique Centre, a Scottsdale treasure
Don't miss the 11 a.m. auction Sunday, Feb. 26
SCOTTSDALE – The Antique Centre antique mall focuses on a diverse range of historical items – from high quality estate antiques, museum grade artifacts, fine art and jewelry to charming collectibles, memorabilia, furniture, and more.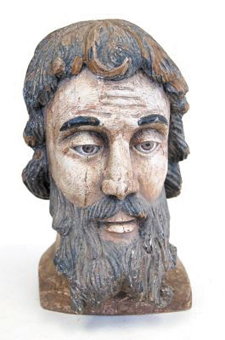 The mall features over 18,000 square feet of showcases and booths from numerous independent and specialized dealers – creating a unique blend of history and an unmatched atmosphere. On a stroll through the aisles you will uncover countless relics from bygone eras in a range of prices to fit every budget.

The finest antique mall in Arizona is also online at www.arizonaantiquecenter.com, offering a glimpse of in-house merchandise from both dealers and the store. Items listed online are available for purchase and viewing at the Scottsdale location. Placing items online is an on going project, so check back for new additions!

Live online bidding is popular for customers who are unable to be present when these highly sought after items are auctioned. Empire Estate Auctions LLC, inside the Antique Centre, holds an Estate Antique Auction on one Sunday each month at 11 a.m. Previews are the previous day, Saturday from 10 a.m. – 5 p.m. and Sunday from 10 a.m. – 11 a.m. (before the auction begins).

This month's Main Auction is Sunday, Feb. 26 at 11 a.m. Previews are Saturday, Feb. 25 from 10 a.m. to 5 p.m. and Sunday, Feb. 26 from 10 a.m. to 11 a.m.

In-store auction bidders compete with online bidders. It's an event not to be missed! In-store bidders need only to sign in prior to the start of the auction. Check their website or call for the March auction date.

Unlike other antique malls, the Antique Centre is licensed to directly purchase your antiques. They also accept limited 90 day consignments for exceptional antiques and furniture.

Consignment spaces are very limited, so please call to inquire.

Visit the Antique Centre located at 2012 N. Scottsdale Rd., on the west side of Scottsdale Rd. south of Oak, north of McDowell.

Call 480-675-9500 or e-mail antiques@arizonaantiquecentre.com for more information.