FEBRUARY 1, 2012
"Bulls 4 Boobs" breast cancer fundraiser kicks it up!
CAVE CREEK – They say third time is a charm and if Team W.I. S.H. Arizona and the Buffalo Chip Saloon & Steakhouse have anything to do with this proverbial expression, they are back for the 3rd Annual Bulls 4 Boobs fundraiser! A hefty goal has been put on the fence to raise $20,000 and help fund breast cancer research, provide educational information and fund programs needed to defeat this horrible disease.

Carol Stacy, Co-captain and co-partner of the event states, "We never thought we would continue this event after one year but the response from locals, 'snow birds' and thousands of attendees who have embraced our efforts, keep coming back for fun, 8 seconds of pure adrenaline, the 'Bulls 4 Boobs 'collector's t-shirt' and more. Plus the stories of heartache and victory we hear, from families and survivors, motivate everyone involved to raise funds for a cause that we're all passionate about."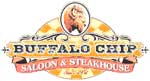 The fundraising starts Friday, February 24 and every Friday night until the finale on Friday, March 30, ending on Fiesta Days weekend in Cave Creek. Team members will stand between the live bull riding and the product table selling 'pink ribbon' items, collecting donations and this year for the first time, a special 'silent auction' each Friday night.

Autographed Arizona Cardinal 'pink' baseball cap by Coach Ken Whisenhunt, Defensive Coordinator Ray Horton & Hall of Famer, Russ Grimm; Simpson NASCAR gloves signed by NASCAR driver #31, Jeff Burton and more!

"If you've never seen 'live bull riding' – no it's not a mechanical bull – you can't miss Friday nights at the Buffalo Chip," comments Kira Westin, co-partner. New this year is 'mutton bustin', which is youngsters of all ages, in the arena chasing and trying to capture sheep to win a prize. The kids love it and it's free! It's an exciting evening with family, good friends, awesome food and we're so proud to be a partner with the Buffalo Chip again this year."

Mrs. Klein's Pickle Company, Flat Tire Defender, Carefree Resort & Villas, to name a few, are back on board as 'superior' sponsors. For more information on how you can become a sponsor this exciting event, contact Carol @ 602-549-9797.

Since the inception of Team W.I.S.H. Arizona (Walking In Spirit & Hope) in 2004, they have raised over $1,110,000 for the AZ 3Day 60 Mile Breast Cancer Walk benefiting Susan G. Komen For The Cure.

Team W.I.S.H. Arizona is a recognized 501(c) 3 and is organized to raise funds for charitable organizations promoting breast cancer education and research.