BY LINDA BENTLEY | FEBRUARY 1, 2012
Obama shows contempt for judicial process
While awaiting Malihi's ruling, Irion stated, 'The world should be holding its breath.'
ATLANTA – Last Thursday marked an interesting day in history; one in which three attorneys Van Irion, Mark Hatfield, who is also a Republican Georgia State Representative, and Dr. Orly Taitz presented their cases before Georgia Administrative Law Judge Michael Malihi regarding Barack Obama's constitutional ineligibility and their respective requests to have him stricken from the Georgia primary ballot. Keep reading ...
BY LINDA BENTLEY | JANUARY 25, 2012
Fire district shenanigans amp up but miss 2012 tax levy deadline
Despite having no structures, a vacant parcel assessed at $300,000 will see a $787 increase in property taxes
RIO VERDE – Andrew Chavez's Black Top Strategies, the company hired by Rural/Metro Fire to collect signatures to form the Rio Verde Foothills Fire District has yet to register with the Arizona Corporation Commission despite Chavez's claim several weeks ago his attorney changed the name of his company from Black Top Solutions. Keep reading ...
BY LINDA BENTLEY | FEBRUARY 1, 2012
Anthem burglary suspects, others arrested
He also said if it hadn't been for that burglary and the alarm going off, 'our deputy would not have been in that parking lot'
PHOENIX – Maricopa County Sheriff's deputies have arrested Shawn Brennan, 23, and Michael Pierce, 33, and booked them into Maricopa County Jail on three counts each of burglary and trafficking in stolen property. Keep reading ...
FEBRUARY 1, 2012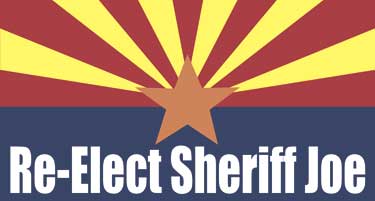 Please support Sheriff Joe Arpaio by attending a fundraiser from 6 – 10 p.m. on Saturday, Feb. 25. The event will be held at Fulton's Home, Stellar Airpark, 4291 W. Folley Place in Chandler, AZ 85226.

Attendees will have a chance to meet Sheriff Arpaio and actor Steven Seagal.

There will be great food and live music, and when we say live music we mean ELVIS is in the building! Step into the wayback machine with music from the King!

R.S.V.P. by e-mail or phone: reelectjoearpaio2012@gmail.com or call 480-948-8002.
Can't make the event? Please support Sheriff Joe by sending your donation to:
10632 N. 71st Place, Scottsdale, AZ 85254.
FEBRUARY 1, 2012
American Legion Posts to help Phoenix Community
INDIANAPOLIS – Wartime veterans of Phoenix have an outlet through which to serve the community. The American Legion, the nation's largest veteran's service organization, is inviting all wartime era veterans in the area to join them in expanding American Legion posts to provide service to the community and veterans of Phoenix. Keep reading ...
FEBRUARY 1, 2012
Scottsdale voter registration deadline is Feb. 13 for March special election
Those wanting to vote in Scottsdale's March Special Election have until Feb. 13 to register. Voters will consider a General Plan update, a franchise agreement and seven City Charter amendments. The special election is on March 13. The General Plan update guides development and growth in the city for the next 10 to 20 years. Cities and towns are required to update their plans every 10 years. The franchise agreement, if approved by voters, would allow Southwest Gas to continue using the city's rights of way for pipelines and equipment. Seven charter amendments were carryovers from 2010 and did not make it on last year's ballot. The amendments would seek to change or clarify the charter, which is the document that defines the city's roles and powers. More information about the ballot items and election will be available soon at www.ScottsdaleAZ.gov/elections
FEBRUARY 1, 2012
Million Road Rehab Project
SUN CITIES – The Maricopa County Department of Transportation (MCDOT) has had a busy winter in the Sun Cities, and there is more roadwork ahead, according to MCDOT officials. Beginning as early as March, MCDOT will begin a $7 million roadway rehabilitation and maintenance project on 22 more miles of County roadways in areas of the north and west valley, announced Chairman Max Wilson, Maricopa County Board of Supervisors. Keep reading ...
FEBRUARY 1, 2012
Creeping corporatization of national parks
Summit promoting a billion dollar private endowment for parks
WASHINGTON – As the National Park System prepares for its centennial in 2016 it is turning toward corporate funding for support, according to Public Employees for Environmental Responsibility (PEER). A core strategy announced by National Park Service (NPS) leaders in August 2011 is creating a billion dollar corporate-financed endowment outside the federal appropriation process. Keep reading ...