FEBRUARY 1, 2012
Cave Creek Museum Hosts "Authors' Month" and Centennial Celebration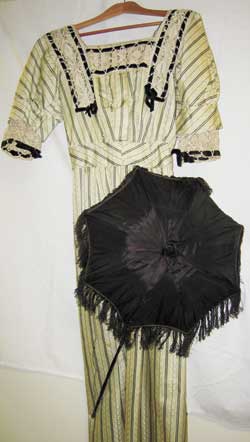 CAVE CREEK – Cave Creek Museum's popular "Authors' Month" returns in February! The Museum lined up an exciting roster of authors to speak each Saturday from 2 p.m. to 3 p.m. in the historic church, followed by a "meet and greet," book signing and refreshments inside the Museum until 3:30 p.m.

The line-up includes: Les Conklin, author of Pinnacle Peak, on Sat., Feb. 4; Patrick Grady, author of Out of the Ruins, on Sat., Feb. 11; Beckey Burgoynes, author of Perfectly Amanda, on Sat., Feb. 18; and Phillip Waring, author of Signs of Arizona: Getting Our Attention for 100 Years, on Sat., Feb. 25. Admission is free.

Cave Creek Museum is also hosting a special "Centennial Celebration: Cave Creek-Style" event from 1 p.m. to 7 p.m. on Tues., Feb. 14. In addition to serving Ginger beer and tootsie rolls, which were popular in 1912, the Museum will feature live music throughout the day from that era. Special exhibit panels will be set up and docents dressed in early 1900s attire will be on hand to answer questions. Admission is free, but donations are appreciated.

Cave Creek Museum is located at 6140 Skyline Drive, in Cave Creek. Visit www.cavecreekmuseum.org or call 480-488-2764.
FEBRUARY 1, 2012
Semi-annual Horny Toad fundraisers support Foothills Food Bank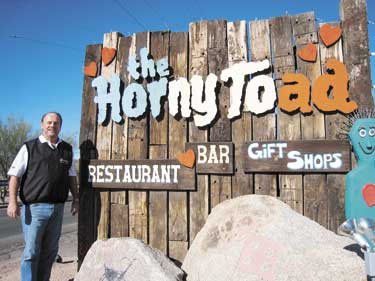 CAVE CREEK – The $600 check Jeff Price, owner of the Horny Toad restaurant, handed to Pam DePietro, Director of the Foothills Food Bank, arrived just in time for Christmas. "We always appreciate his support of the food bank." said DePietro. "God bless him."

The funds were raised in a semi-annual silent auction hosted by the Horny Toad featuring autographed photographs of sports and popular entertainment figures. Lori Kirby of PSA Sports Auctions handles the semi-annual events.

To donate: 6920 E. Cave Creek Rd.; P.O. Box 715, Carefree, AZ 85377; or www.FoothillsFoodBank.com. You are welcome to make regular monthly payments!

FEBRUARY 1, 2012
Nathan J. Winograd, founder of the No Kill Advocacy Center, is coming to Cave Creek Smokehouse & Pour House Patio Feb. 18
CAVE CREEK – Cave Creek Smokehouse & Pour House Patio and No Kill Maricopa have teamed up to offer an educational seminar on Saturday, February 18 from 9 a.m. – 2 p.m. on the Fountain Patio in the tent area. Pets are welcome.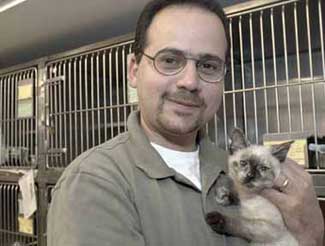 Join Nathan J. Winograd (l), one of the greatest No Kill leaders of the nation for an exciting, educational, and networking opportunity for learning how to build a No Kill community to save shelter animals.

His book, Redemption, is the most critically acclaimed book on the topic in the United States and the winner of five national book awards. He is also the author of Irreconcilable Differences, a collection of essays that follows up where Redemption left off and asks – and answers – the question of whether we can do better as a society when it comes to our stewardship of companion animals.

Nathan has helped communities and shelter directors raise the bar for saving the lives of shelter animals. In many cases, the shelters drastically reduced their kill rates from 40 percent – 80 percent plus, down to 10 percent or less. This was accomplished through the implementation of the No Kill Equation.

There will be vendors representing adoption and rescue groups, pet adoptions, gifts, education on the no kill vision and renowned guest speakers. Their mission is to teach a no kill philosophy in our shelters to help our pets and to teach our community to help control animal populations.

It is an event you will want to clear your calendars to attend. There is no admission fee.
Yappy Hour to be on Friday, February 17 from 3 – 7 p.m. and the Saturday event will be followed by "Yappy Hour" from 2 – 6 p.m. on the outside front patio of the Pour House and on the inside front porch of the Smokehouse. All pets are welcome in these areas as well. Happy Hour prices will be offered for those in attendance, which includes $2 domestics, $3 imports and well drinks, and $4 premiums.

Please RSVP for the seminar. Reservations should be made at your earliest convenience: gonkmc@gmail.com.

11 a.m. – 2 p.m. conference; 2 – 2:30 p.m. book-signing (Books and CD will be available for purchase. Cash or check only.)

6245 E. Cave Creek Road, Cave Creek.
Visit www.cavecreeksmokehouse.net or on Facebook at ccsmokehouse.