BY MARGARET STEWART | JANUARY 18, 2012
Let the games begin!
The olives are ripe!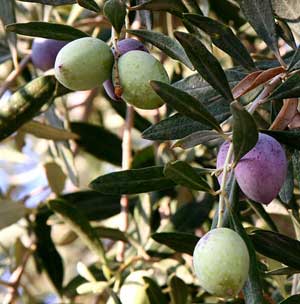 Our older home came with two "grandfathered" olive trees. Nowadays everyone frowns at the mention of olive trees. They are, of course, non-natives, imported from the Mediterranean (Olea europaea). Worse, their springtime burst of pollen causes many folks serious allergic reactions and in some communities planting them is forbidden. Late in the year the ground beneath the trees is covered with black fruit, which is smashed by feet and tracked onto the carpet. Ugh.

However, olives thrive in our climate, living for many years with a minimum of care. Their sage-colored leaves offer cool, dense shade, safe places for nests. The bountiful olives ripen in mid-December, and from that time on there is a contest among all the ground-feeders to see who can reap the harvest. Sometimes it grows violent.

In November the quail begin to haunt the gravel under the trees, preparing themselves for the feast even before the olives fall. By that time they have completely stripped the pyracantha berries, which ripen earlier, and are getting hungry for fresh fruit. Flocks of twenty or so stroll in each morning looking very serene and detached as they peck through the small stones in rehearsal for the anticipated event.

A bit of wind is required to knock the olives off, and only a few drop at a time. We resist the temptation to shake the fruit down, on the theory that Nature knows best how to dole out her gifts. With squirrels, Gila woodpeckers, thrashers and mockingbirds all competing for the same prize, everybody has to hustle. Quail are fast sprinters but too plump to risk a landing in the tree, and the olives grow at the ends of slender branches. So the spirited olive games must be waged on the ground.

The quail not only watch the olives, they watch each other. And with good reason. When a lucky bird finds fruit, two or three buddies will rush in to snatch it away, like a tiny black football. It takes quick thinking to make the zigzag dash behind a distant rock where the morsel can be eaten in peace. More often, one aggressive quail will fight the others for it.
Pecking order is a deciding factor. A lowly quail, easily intimidated, will abandon his olive and scamper off in a panic rather than give battle when a rival dashes toward him.

Between olive drops the quail assume their aura of proper respectability, but should a single black fruit fall from the tree, there will be a flurry of feathers and wings as the whole covey swoops down on the treasure. The resulting scramble resembles a football scrimmage and the winner is pursued by frantic friends to the far corner of the yard before they give up and go back to wait for the next windfall.

The olive games are played every day, dawn to dusk, from December till March, when the last fruit has finally been eaten and the spring rains have brought new sources of food for the desert creatures. No sticky black mess will ever be found under our old olive trees. Nature will have kept the gravel clean, the quail fat and our family amused all winter long.
JANUARY 18, 2012
DAC needs volunteers for Desert Reach School Program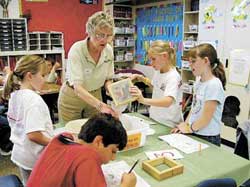 The Desert Awareness Committee is looking for volunteers to bring its fast-paced, exciting Desert Reach program into the classroom. Once a week, from January through March, a team of trained volunteers goes into the fourth grades of the local elementary schools and leads a hands-on, 90-minute, six-station experience for students, who are called "desert explorers." Topics cover history of the area, geography, Native American Culture, as well as knowledge of and respect for the desert itself – its plants and its animals.

Visit the DAC website at www.azfcf.org/desert_awareness_programs.html and click on Desert Reach to see a video of this program.

Please call Fran Wylie 480-595-5501 or Diane Vaszily 480-488-5477 to volunteer or learn more.
JANUARY 18, 2012
DFLT Annual Meeting and other upcoming events
DESERT FOOTHLLS – There's a lot going on at Desert Foothills Land Trust these days!

The Land Trust will host its Annual Meeting on Wednesday, January 25, 2012 at 5:30 p.m. at the Spirit in the Desert Retreat Center. Grace Schoonover, with the Desert Foothills Chapter of the Arizona Archaeological Society will speak about the types of archaeological resources found in our area, as well as ways the Society and Land Trust are working to protect them. Representatives from the Land Trust will also share information about their activities in 2011 and goals for 2012, as well as elect new board members.

During a volunteer orientation session on February 2, Land Trust representatives will share information about the organization and volunteer opportunities, including assistance with special events and office activities, as well as workdays on beautiful preserved lands. The orientation session is a great review for current volunteers and a great overview for those considering volunteering. Registration for the session is requested by January 31.

Additionally, the Land Trust is offering six in-depth Steward and Docent Training classes, which will cover natural history, geology, invasive species and other topics related to preserve management and outreach activities. These sessions are held every Thursday morning between February 16 and March 22. Space is limited and reservations are required.
The Land Trust is also continuing their winter and spring hike series with guided hikes scheduled almost every weekend between now and late April. Hikes are free, but space is limited and registration is required. Please check the Land Trust's website at www.dflt.org/hikes.php for the latest information. Registration for guided hikes is required. Please e-mail the Land Trust at hikes@dflt.org at least one day before the hike with the number of people who would like to attend.

Annual Meeting
Wed., Jan. 25, 5:30-7 p.m.
Spirit in the Desert Retreat Center
7415 E. Elbow Bend Road, Carefree, AZ 85377

Volunteer Orientation
Thurs., Feb. 2, 5:30 - 6:30 p.m.
Desert Foothills Land Trust office
7518 E. Elbow Bend Road, Ste B-6, Carefree, AZ 85377
Please RSVP to Mary Warren at 480-488-6131 or mwarren@dflt.org by Jan. 31.

Steward, Docent Training
Thurs., 9 a.m. - Noon
Feb. 16 through March 22
Desert Foothills Land Trust office, and field visits
7518 E. Elbow Bend Road, Ste B-6, Carefree, AZ 85377
Space is limited and reservations are required. Please RSVP to Vicki Domonkos at 480-488-6131 or vdomonkos@dflt.org by Feb. 13.

Learn more at www.dflt.org.