BY BECKY FENGER | JANUARY 4, 2012
Ten Most Wanted

It's that time of year again for the list compiled by Judicial Watch of Washington's "Ten Most Wanted Corrupt Politicians" who have undermined the rule of law and abused the public trust. JW's purpose is "to promote integrity, transparency and accountability in government, politics and the law."

And yes, the list is bipartisan, since no one is above the law (although plenty of politicians and a few presidents would quarrel with that statement.) Note that they are listed alphabetically and not in the order of gravity. In a shortened form, here are the "Top Ten" for 2011 as described by JW:

Spencer Baucus (R-AL): Chairman of the House Financial Services Committee, Baucus has become the face of an insider trading scandal for his remarkable good fortune in shorting the stock market in 2008 after receiving a private briefing for Congressional leaders by Treasury Secretary Hank Paulson and Fed Chairman Ben Bernanke.

Former Senator John Ensign (R-NV): Forced to resign in May 2011 due to a sex scandal that first broke in 2009. Ensign admitted to an affair with the wife of long-time staffer Douglas Hampton and then tried to bribe the couple with expensive gifts and political favors. Amusingly, Sen. Ensign's parents gave the Hamptons $96,000 and insisted it was a just a gift and not hush money.

Attorney General Eric Holder: Where to start? Holder operates the "most politicized and ideological DOJ in recent history," says JW. There's the Fast and Furious gun scandal and lying to cover it up. There's the attempt to stonewall the release of information on Supreme Court Justice Elena Kagan in the Obamacare case. There's the dropping of the voter intimidation lawsuit against the New Black Panther Party at the urging of the NAACP. There's the conspiring with the scandal-ridden Project Vote, a front for ACORN, to use the National Voter Registration Act to increase welfare voter registrations. Go he must.

Rep. Alcee Hastings (D-FL): This former impeached federal judge allegedly sexually harassed a female employee and then engaged in a cruel campaign of retaliation when she rebuffed him. He also used government travel as a cover for sightseeing and solicited gifts and campaign contributions from staffers.

Rep. Jesse Jackson, Jr. (D-IL): He raised campaign cash for then Gov. Rod Blagojevich in an attempt to buy a U.S. Senate seat appointment from him in 2008. Last month the House Ethics Committee finally announced it will continue its investigation into this serious matter.

President Barack Obama: Corruption may not get any bigger than Solyndra and the ensuing lies. Then Obama continues to fund ACORN which is not defunct as claimed. He ignores the U.S. Constitution with his appointing of Czars. JW uncovered documents showing the Obama National Labor Relations Board staffers cheerleading for Big Labor and mouthing Marxist, anti-American slurs. Not to mention his corrupt Chicago dealings that continue to haunt Obama.

Rep. Laura Richardson (D-CA): Gross misuse of her staff for personal and political gain including using them as servers at fundraising events at taxpayer expense. She also commandeered emergency helicopters in her home district for sightseeing tours for friends.

Rep. David Rivers (R-FL): Mired in numerous ethics controversies stemming from charges of money laundering and tax evasion schemes initiated when Rivera served in the Florida House. In only his first Congressional term, he is currently under investigation by the FBI, the IRS, the Florida Department of Law Enforcement, the Miami-Dade Police public corruption unit, and the Miami-Dade State Attorney's office. Phew!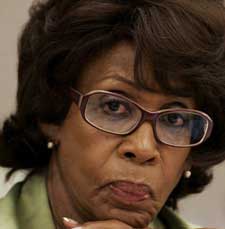 Rep. Maxine Waters (D-CA): One of the most outspoken (read "mouthy") members of Congress, she is also one of the most corrupt. Just one example is her co-conspiring with Rep. Barney Frank on behalf of OneUnited Bank where her husband was on the board of directors (which she failed to mention when she sought TARP funds). She wants to take over Barney Frank's position on the House Financial Services Committee when he retires.

Rep. Don Young (R-AK): Known as the "Bridge to Nowhere" man, he exceeded the limit on campaign donations to his legal defense fund which was set up to defend against an entirely different set of corruption charges!