MY VIEW BY DON SORCHYCH | DECEMBER 28, 2011

Property tax is an anathema
It is awfully hard to play Paul Revere when we publish bi-weekly. Cave Creek jumped from a council workshop to a council meeting in one week so the council meeting agenda was unknown to a large body of voters.

I reminded citizens there was a subterranean move by Cave Creek administration to invoke a property tax for fire protection. The audience at the council meeting was conveniently in favor of a property tax and doubtless had been alerted by town administration. Somehow the administration can't stand the thought of the end of the property tax to purchase Spur Cross Ranch without bringing on a new property tax at essentially the same annual amount.

Carole Perry, Cave Creek's Roseanne Barr, spoke to council lamenting the loss of Home Depot while praising the purchase of Spur Cross Ranch and seemingly took credit where credit goes to many, including Sonoran News.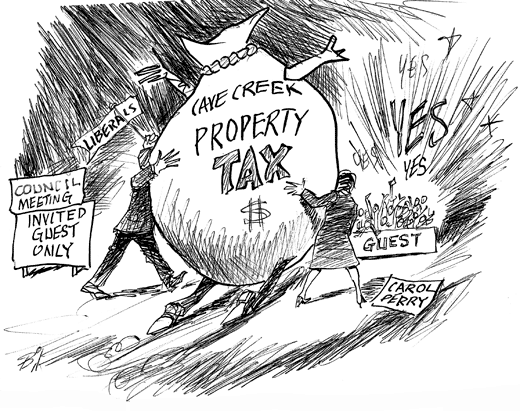 She took a cheap shot at me by saying something like don't assume that one newspaper editor knows more than the brilliant citizenry. She, of course pleaded for a positive vote so she and her liberal cohorts could burden everyone with a property tax, forever. She sat down to scattered applause which underlines the attitude of guests invited by the town. If she wants to move, Hollywood would adore her.

Harold's Corral owner Bill Vale gave a splendid speech. First of all he suggested that the property tax and the use of .5 percent sales tax should be lumped together, but they were considered separately. He then went down a list of the town's actions and promises. He talked about the .5 percent sales tax being sold as temporary and now the town was suggesting diverting it to fire protection rather than eliminating it.

He said the town had sold Walmart as achieving $100 million in annual sales, which would yield $3 million in annual tax revenues. He said the store manager had told him they hoped to reach $50 million or half the town's claims.

He mentioned water rates had been raised and although cuts were promised, they were still high even though Walmart was operating.

Vale said he would pay the monthly $4,100 he currently pays to Rural/Metro rather than have a property tax. He compared all this to actions expected of Nancy Pelosi and Harry Reid.

I was the sole applauder.

I spoke and argued a property tax should never be forced on citizens. This action is a cliché, "If it isn't broken, don't fix it." Former Councilman Adam Trenk spoke earlier at call to the public and denied the need for a property tax. His letter to the editor will be in next week's printed edition.

My brief discussion earned no applause either.

The fact is this vote by council wasn't needed. As Trenk and others have pointed out, if citizens thought a fire district and attendant property tax was needed they could have filed an initiative. With town staff employees on a four day week and short rations where do they have the time to go through the time and expense to fight this battle? And it will be a battle.

Twenty five percent of Cave Creek property is vacant. With the current agreement with Rural/Metro, vacant land owners pay very little. However, as a property tax they will pay a percentage based on the assessed value of their property. Many owners don't live here but will be taxed, without representation. We are already receiving outraged e-mails from them.
While Rural/Metro fire protection is a choice, a property tax gives you no choice. How many will lose their homes due to the assessment?

Are you happy with the assessed value of your property? I'm not. Today, my property is valued at about twice what I bought it for 11 years ago. If I tried to sell it I couldn't get half of the appraised value.

Whereas today you can buy a subscription with Rural/Metro, with a property tax you get snagged into bureaucracies including the tax appraiser and even the corrupt County Board of Supervisors.

This all is part of the leftist nature of town government, their allies and four councilmen. We will have much to say about that before next year's vote for fire protection and vote for council.