DECEMBER 21, 2011
2012 Real Gardens for Real People Tour
11th Annual Tour presented by University of Arizona Cooperative Extension Master Gardeners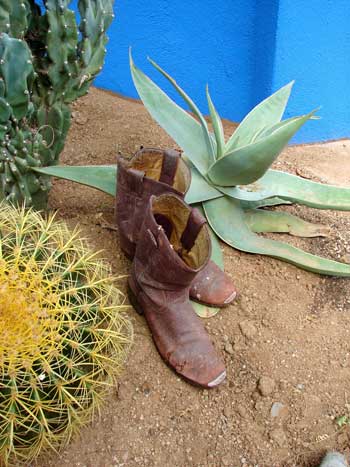 Six beautifully landscaped residences with mountain views as well as vegetable and butterfly gardens at an elementary school, all in north Scottsdale, are featured in the 2012 Real Gardens for Real People Tour to be held on Saturday, March 31, 2012, from 9 a.m. to 4 p.m. The 11th annual garden tour is presented by the University of Arizona Cooperative Extension Master Gardeners.

The annual self-guided tour focuses on gardens designed and created by Master Gardeners, who subscribe to principles of selecting, placing, and caring for plants in an environmentally responsible manner based on research specific to the low desert. Included on the tour are newly created vegetable gardens at Copper Ridge Elementary School that are being used as a living laboratory to educate students about sustainable gardening and the importance of good nutrition.

The gardens named, "Territorial Oasis," "Desert Serenity," "The Collector's Canvas," "Tranquil Retreat," "Desert Oasis," and "Wildlife Paradise," include use of desert-adapted plants, edible landscapes, use of recycled materials, water features and unique art including metal sculptures and mosaic pieces. At each stop on the tour, Master Gardeners and other experts will be available to educate attendees on topics such as pruning techniques, container gardening, attracting birds and wildlife, water gardening, and gardening with children. A unique aspect of the tour is that labels will identify plants in the gardens, and attendees will receive lists of the plants in the gardens. A select group of vendors will be at various locations on the tour.

Tickets sales are limited with purchase in advance at $25 and $30 on the day of sale. Tickets can be purchased now at cals.arizona.edu/maricopa/garden/gardentour.htm and after January 6 at a range of local merchants, including the following: A&P Nurseries in Gilbert, Mesa, and Queen Creek; Baker Nursery in Phoenix; Berridge Nursery in Phoenix; Black Mountain Nursery in Cave Creek; Desert Gardens Nursery in Phoenix; Harper's Nursery in Mesa and Scottsdale; Linden Tree Nursery in Sun City; McKeown Landscape in Peoria; Melrose Pharmacy in Phoenix; North Scottsdale Nursery and Cactus in Scottsdale and Southwest Gardener in Phoenix.

Tickets are also available at the University of Arizona Cooperative Extension Offices at 4341 E. Broadway Rd. in Phoenix and 13815 Camino del Sol in Sun City. On the day of the tour, tickets will be sold at Copper Ridge Elementary School, 10101 E. Thompson Peak Parkway, Scottsdale.