DECEMBER 14, 2011
Share the splendor and power of Black Mountain
2012 Black Mountain Photo Contest Calendars available now!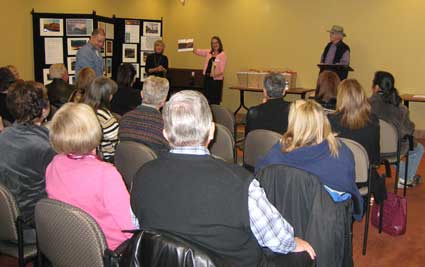 The official 2012 Black Mountain Photo Contest Calendar was unveiled during the reception and awards ceremony for contest finalists at the Desert Foothills Library on Wednesday, December 7. (l-r) People's Choice Award winning photographer Phil Schultz, BMPC Chair Joanne Rebollo, DFLT Executive Director Sonia Perillo and emcee Sonoran News Publisher Don Sorchych.
Photo by Shari Jo Sorchych

Phil Schultz's beautiful photo, the People's Choice award winner, is featured on the cover of the 2012 Black Mountain Photo Contest calendar.

Treat yourself and give as gifts! Calendars can be purchased at the Land Trust office! They are $12 each or two for $20. Call 480-488-6131 or e-mail info@dflt.org to get your copy today!

Desert Foothills Land Trust is the proud sponsor of the 9th Annual Black Mountain Photo Contest. Black Mountain Conservancy, the original sponsor of the contest, merged with Desert Foothills Land Trust in 2009, and the Land Trust continues this important community event. By capturing the beauty and majesty of Black Mountain, photo contest participants are helping Desert Foothills Land Trust inspire the protection of our fabulous desert landscape.