BY JIM MCALLISTER | DECEMBER 7, 2011
Scottsdale pro Kirk Triplett prepares for Champions Golf Tour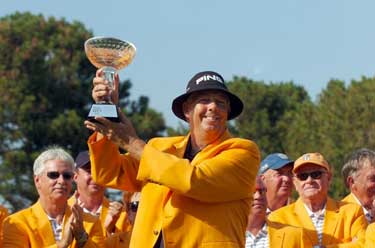 Kirk Triplett celebrates winning the "News Sentinel Open" tournament in Knoxville, Tennessee last August. Courtesy photo by Cathi Triplett



SCOTTSDALE – As any athlete will tell you, attrition takes its toll regardless of the sport and in most cases retirement is inevitable when Father Time makes his appearance.

Fortunately, on the PGA golf tour, when the guys nearing middle age see the drives of their twenty-something competitors flying sixty yards past them, they can take comfort in knowing that at age fifty, they may be eligible for "Life's Greatest Mulligan"; otherwise known as the Champions Golf Tour.

Scottsdale resident and PGA pro Kirk Triplett will be fifty on March 29, 2012 and will be fully exempt to play on the Champions Tour. For anyone who thinks the older guys can't play anymore, all they need to do is look at the senior roster which includes guys like Fred Couples, Bernhard Langer, Nick Price, Tom Watson, and another Scottsdale pro, Tom Lehman. Those guys take their golf seriously and are making good money with Lehman leading the way at over $2 million in earnings this year.

Kirk plans to concentrate on the Champions Tour next year with little or no participation on the PGA or Nationwide Tours. Golf is a difficult game and he never takes it for granted so he knows he better be fit and ready in 2012. Hence, he is never far away from his long time coaches Laird Small, David Cook, and Glenn Albaugh who assist him with his swing and the mental side of the game. He realizes that "It takes more than just a good swing to play professional golf successfully." He also realizes that success depends more on his innate ability to improve rather than trying to make quick fixes through gadgets or constant equipment changes.

Kirk Triplett turned pro in 1985 after graduation from the University of Nevada-Reno. Since that time he has won three titles, finished sixth twice at the prestigious Masters Tournament, and played on the President's Cup team. His success has earned him $15 million in prize money to place him at 77th on the all time PGA Tour money list. Those are impressive statistics to us amateurs who have had numerous lessons and still struggle to break 90.

After losing his PGA player's card in 2009, Kirk has played a limited schedule including some PGA and Nationwide Tour events. Even with the schedule disadvantage, he has earned $228,000 in 2011 including a $90,000 win on the Nationwide Tour against a lot of guys half his age who can drive a ball over three hundred yards with regularity.

Since he knew the Champions Tour was in his future, Kirk decided five years ago to adjust his outlook on golf based on anticipating play with the over fifty crowd. He feels he will fit in well with the format of the events but he also knows these guys are tough competitors who earned their spurs in the past and will not be easy to beat. Regardless, I think we will be seeing Kirk Triplett's name on a lot of leader boards in 2012.

Jim McAllister writes about golf and other local subjects. He can be reached at azjimmcallister@cox.net.