Guest Editorials
BY TOM FITTON PRESIDENT, JUDICIAL WATCH | NOVEMBER 30, 2011
Game changer? Judicial Watch releases new Kagan emails as Obamacare heads to Supreme Court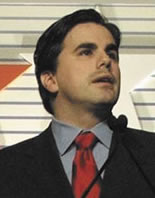 From the moment Barack Obama signed his socialist healthcare overhaul into law, it was destined to wind up in the United States Supreme Court. And as we learned on Monday, that day will soon come. According to The Associated Press:

The Supreme Court said last Monday it will hear arguments next March over President Barack Obama's health care overhaul — a case that could shake the political landscape as voters are deciding if Obama deserves another term.
Keep reading ...
Guest Editorials
BY U.S. SENATOR JON KYL | NOVEMBER 30, 2011
Building a 21st-Century economy
In the late 1950s, after the Soviet Union launched the satellite Sputnik, many intellectuals were predicting a future of American decline and Soviet ascendancy. A few decades later, in the 1980s, it was once again fashionable to speak of U.S. decline and the coming emergence of a new global superpower. This time, the new superpower was going to be Japan. Needless to say, the Soviet Union collapsed at roughly same moment that Japan sank into a lengthy period of stagnation. Meanwhile, the U.S. economy was enjoying an unprecedented boom. Keep reading ...