BY LINDA BENTLEY | NOVEMBER 30, 2011
CCUSD93 board votes to appeal court ruling on bonds
'Our argument is solid … but if that's what the board chooses, we will defend the decision in the court of appeals'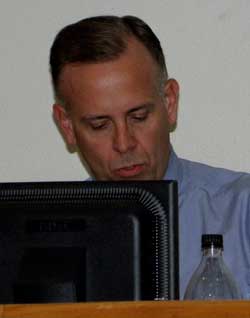 CCUSD93 – Following an executive session, Cave Creek Unified School District President David Schaefer (l) moved an agenda item to decide whether or not to appeal the decision in the Goldwater Institute's lawsuit brought on behalf of district taxpayers to the top of the agenda.

Superintendent Debbi Burdick stated, "Specifically, the governing board will decide whether to appeal the superior court judgment in this matter."

Burdick read from the agenda and said the administration was recommending that the governing board, "confirming the direction and instructions given to its attorneys in executive session," move to "instruct its attorneys to file an appeal of the superior court judgment in Friedman v. Cave Creek Unified School District."

It's curious how Burdick could possibly have known, prior to the executive session, what direction and instructions the board would be confirming and on what basis she was making her recommendation for the board to instruct its attorneys to appeal.

After all, the agenda must be made up a minimum of 24 hours prior to the executive session.

In September, Maricopa County Superior Court Judge Eileen Willett found the legislation introduced by then Rep. Nancy Barto, R-Dist. 7, which allowed governing boards to vote to use bond money for purposes other than those approved by voters, unconstitutional on two fronts.

Willett agreed with the Goldwater Institute's arguments that the legislation violates the contracts clause of the U.S. and Arizona constitutions and constituted a special law in violation of the Arizona Constitution.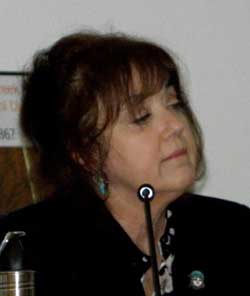 The governing board held no discussion on the item other than member Susan Clancy (l), who prefaced her vote by stating the law firm Gust Rosenfeld P.L.C. advised the board in 2006 not to pre-sell bonds.

Sonoran News was present during that 2006 meeting, during which Attorney Fred Rosenfeld cautioned the board about pre-selling bonds and how the IRS frowned upon such actions and could render the tax-free bonds taxable investments.

Clancy, who was not serving on the board in 2006, said because the board chose to do so anyway is the reason it finds itself in the quandary it's in.

She then quoted from the minutes of the Sept. 26, 2011 Superintendent's Advisory Council meeting during which Burdick stated, "There are options we have to take to the board. Yes, the lawsuit is appealable but we don't have the money for that now. Second, we can pay down debt which we hardly have any. If we did that, everyone would get a few dollars off their tax bill only one time. We could have done a lot with fixing our facilities with the $14M.

Three, we can let it sit in the bank and hope something changes or four, we could take it back to the voters to change it. This option was not available until this last legislative session. Legislators changed the law and said districts can take the question of bond expenditures back to the voters and ask them to allow us to spend it another way. That bill was just passed by the legislature this session and we are concerned about the legality of that bill. To take the question back to the voters would cost about $35,000 as the district would have to pay for the election."

Clancy was concerned that the district would be spending more money on a losing proposition.

The board voted 3-1 in favor of appeal with Clancy dissenting.

If the district loses on appeal, it will also be liable for attorney fees and costs in excess of the $31,867.60 already awarded to the Goldwater Institute by Willett.

The IRS has been looking into the district's situation and CCUSD93 has hired other legal counsel, which the district said will exceed $50,000 to continue dealing with the issue.

Burdick is right to be concerned over the legality of the new law, which allows districts to ask voters to change the use of previously approved bond projects.

While the new law says the district may ask voters to authorize a change in the use of bonds previously approved, it says nothing about voters having the authority to change the use after bonds have been issued, the situation in which the district currently finds itself.

After bonds have been issued, it would seem the district would need to gain permission from the investors to change the use of their investments, not from the voters.

The new law, which was cosponsored by Barto, might have been appropriate prior to the district voting to issue the bonds in 2006, not now.

The district recently sent out a tweet on its Twitter feed announcing, "The Coalition for Ed Excellence has selected CCUSD as an Excellence Through Innovation Award winner."

A Twitter follower questioned if there is a financial benefit attached to that award and if the district is planning to use those funds to file an appeal.

The Arizona Coalition for Educational Excellence (ACEE) was formed in July 2011 as a 501(c) (4) tax exempt organization that claims its purpose is to "bring about change and improvements to public schools in Arizona."

According to the Arizona Corporation Commission the ACEE is not a corporation in good standing due to an "undeliverable address."

Then there's the Coalition for Educational Excellence (CEE), a political action committee (PAC) formed in 2010, which has received over $205,000 in donations from various corporations that benefit from the passage of bonds and overrides, and has made major contributions to PACs, including LearnYes.org, to support the passage of bonds and overrides during 2010 and during the Nov. 8 election campaign.

However, while CEE made numerous contributions to various PACs promoting school bonds and overrides on the Nov. 8 ballot, it's not filed any campaign finance reports since 2010.
According to Maricopa County Elections Campaign Finance Director Kristi Passarelli, the next campaign finance report for the PAC isn't due until January 2012.

Upon learning the board voted to appeal Willett's decision, Goldwater Institute Attorney Christina Kohn said, "Our argument is solid and we had a very favorable decision from the trial court," adding, "I hate to see more taxpayer resources spent on litigating this, but if that's what the board chooses, we will defend the decision in the court of appeals."