NOVEMBER 30, 2011
Bill of Rights Day Thursday, Dec. 15
Honor the Bill of Rights on the day The Bill was first ratified in 1791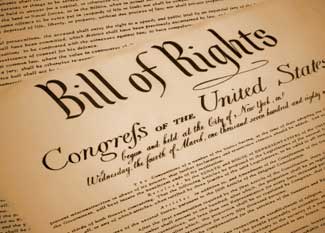 PHOENIX – An evening you won't forget, with special guest "Patrick Henry," and a solemn reading, out loud, from a parchment copy of the document that changed the world. Refreshments, companionship, a splendid time is guaranteed for all.

Can't get to Phoenix? Celebrate at a place near you.

Dec. 15 this year is a Thursday, mark your calendars now. Last year we were at the Wrigley Mansion.

In classic American Colonial style, this year's commemoration takes place in a church, where, during the Founding days, significant public meetings routinely occurred (with the exception of some pretty interesting meetings in pubs!).

Location:
Deer Valley Church
15220 N. 39th Ave. Phoenix, AZ 85053
602-978-0041
SW corner 39th Ave. and Greenway
1.5 miles west of I-17, off the Greenway exit
Enter from 39th Ave.

In order for caterers to prepare YOU MUST RSVP to attend. As a capacity crowd is expected, you are encouraged to respond promptly.