NOVEMBER 22, 2011
Luminaria crews and bag folders needed
The 9th Annual Luminaria Run is looking for luminaria crews to help light the race course and the route to the Christmas Pageant. Fifteen Luminaria Crews are needed to light both areas.

The race has moved to the Memorial Rodeo Grounds this year so none of its route overlaps the way to the pageant. This new route provides a lower-traffic, quieter route for runners, but means there is more area to cover with luminaria crews.

A luminaria crew consists of four people and a pickup truck. They meet Saturday, Dec. 3 at 1:30 p.m. at Vermeersch Wash Road. Trucks are filled with sand and crews are trained in proper placement of the bags. After filling the bags, volunteers return to the race site for mingling and snacks and then head back out on the road around 4:30 p.m. to place candles and light them. Crew members then come back on Sunday to pick up the bags and candles (only takes about 45 minutes per crew section).

Last, but not least, Luminaria Run organizers are looking for race-day volunteers to help with registration or water stops or to be course monitors.

We also need to have approximately 1,000 luminaria bags folded. Instructions can be found on the luminaria run website (www.luminariarun.org) and bags may be picked up at the FCF-Holland Community Center (34250 N. 60th Street, Building B, Scottsdale). Volunteers may register online at Signup Genius: www.signupgenius.com/go/runvolunteers.

The Luminaria Run is Saturday, Dec. 3 at the Cave Creek Memorial Fairgrounds. Race-day registration begins at 3:45 p.m. The event benefits Desert Foothills Theater, a program of the Foothills Community Foundation and Hayley's BMT Buddies at Phoenix Children's Hospital.

For further information and online registration visit www.luminariarun.org or call Desert Foothills Theater's office at 480-488-1981.
NOVEMBER 22, 2011
Kiwanis of Carefree Flea Market Saturday, Dec. 10
8 a.m. – 1 p.m. (Rain date: Saturday, Dec. 17)
Location: Dave Anderson Memorial Building, 7177 E. Ed Everett Way near the SW corner of Tom Darlington and Cave Creek Rd.

Many Christmas and Hanukkah decorative items, paper goods, gift packaging and lots of gifts at easy, budget prices.

In addition, they have items for every room in the home, including the workshop, exercise room, yard, and patio – electronics such as TVs, computers and music components, hardware, toys, sporting goods, costume jewelry, books and miscellaneous to the rafters.
All electrical and mechanical items are tested before being placed on the shelves.
Cash, credit cards and checks (with I.D.) will be accepted.

Kiwanis is a 501©3 organization. All proceeds benefit community programs.

Donations are tax deductible and can be dropped off at the flea market building, Wednesdays 1:30 – 3:30 p.m. and Saturdays 9 a.m. – 11:30 a.m. Call 480-488-8400 for pick up or more information.
BY LUCAS MCQUISTON | NOVEMBER 22, 2011
An amazing mama bobcat and her two baby girls
In 2009 a mama bobcat found a perfect spot to live in on top of our roof and raise her two kittens. They lived in a "cubby" that was created by two parts of the roof line. The bobcats brought us endless hours of entertainment, like "ice skating" on the sky light, eating their first meal and 2 a.m. wrestling matches on the roof. I have taken hundreds of photos of them. These bobcats lived on our rooftop for just about three months.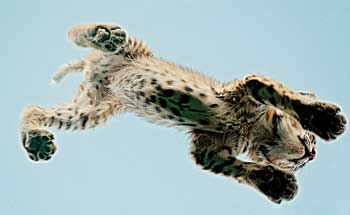 After that, we did not see her again until, just weeks ago when she made another appearance. She returned again with two baby girls. We know they were girls because of our skylight view. They were about seven weeks old and still nursing from mom. As usual they were very entertaining.

One day we noticed one was missing. We thought maybe a hawk had snatched her from the roof. But that did not settle well with my dad. After the baby had been missing for over 24 hours, my dad had an epiphany! He thought maybe the baby bobcat fell into a hollow pillar from the roof. So my dad knocked on the pillar and heard a response. At that point we knew the baby was in the pillar.

My dad grabbed his tools and I grabbed my video camera. It took my dad about three minutes to drill a hole through the thick pillar. During this entire time mama bobcat is watching from the roof. After the hole was drilled we waited for the baby to come out. But nothing happened. So we went inside to give her space. As soon as we went inside she popped out of the hole and went looking for her mom.

But before mama and baby were reunited the baby bobcat fell into our swimming pool! This was so unexpected! We ran back outside to save the baby but mama bobcat was too close to the pool skimmer. So again, we went inside to give her space to see if she could do the next rescue. The baby bobcat swam around for a short while before mama bobcat was able to reach in and grab her baby.

It was truly a once in a life time experience … something you don't see in a zoo.

CLICK HERE To watch the video.

NOVEMBER 22, 2011
Rainwater and graywater harvesting: An overview of simple, sensible and sustainable systems
Date: Thursday, December 1st, 7 - 8:30 p.m.

Location: Scottsdale Granite Reef Senior Center, 1700 N. Granite Reef Rd. (NW corner of McDowell and Granite Reef, behind the convenience store)

Topic: Meeting the water needs of a growing desert city is a tall order. However, it is an area that we all have the ability to positively impact. Rainwater and graywater harvesting are both practical strategies to make the most of this valuable resource currently running down our sewer and stormwater drains. From cisterns to infiltration chambers, Joe Sillins will provide an overview of simple and affordable water harvesting practices attendees can integrate into their homescapes. He'll also highlight upcoming opportunities for residents to get hands-on experience with these systems.

Speaker: Raised in Mesa and living in Tucson since 2000, Joe Silins is the Phoenix Program Coordinator for Watershed Management Group (WMG). WMG is a nonprofit Tucson-based organization working to integrate community development and environmental conservation. Joe is also the point person for WMG's projects in the Border Region, and works in residential construction in Tucson. Joe received a Masters in Planning from the University of Arizona in 2008 and a Bachelor of Fine Arts from the U of A in 2005.

Admission: The program is free and open to the public; no reservations are needed.
Contact: Anthony Floyd, Senior Green Building Consultant, City of Scottsdale, afloyd@ScottsdaleAZ.gov, (480) 312-4202.

The lecture series is sponsored by the Scottsdale Green Building Program. To view the 2011/12 Green Building Lecture Series schedule visit their website at www.scottsdaleaz.gov/greenbuilding/lectures.
NOVEMBER 22, 2011
Wildlife education brings peace to returning veteran
U.S. Coast Guard veteran finds purpose in educating Arizonans about native wildlife
PHOENIX – When veterans of the United States military return from serving our country, they often long to continue their role as a leader and give back to their community. The Arizona Game and Fish Department is fortunate to have found just that kind of individual to help educate citizens about Arizona's native wildlife.

After completing her tour in Iraq with the U.S. Coast Guard, Melissa Steinman returned to the workplace and found it challenging to adapt to civilian life and her previous profession as a science teacher.



With the help of The Mission Continues, an organization which offers fellowships and organizes volunteer-led service projects for veterans nationwide, Steinman found Game and Fish's Adobe Mountain Wildlife Center and began a six-month fellowship that allowed her to "feed her soul" and continue her desire to serve.

"The Mission Continues helps me contribute directly to my community while also allowing me to further my professional goals for the future," said Steinman. "Leadership played a big role in my military career, and it is something that's still needed in our civilian communities because it empowers people to be active and to use their personal strengths."

Steinman instantly felt connected to the Wildlife Center's mission of wildlife education and caring for sick, injured and orphaned wildlife.

"When I have bad days, I have to remember the wildlife, especially the birds, that are always challenging their disability, and I have to do the same thing myself," Steinman said. "I constantly wonder what else can I do with the time I have here in my fellowship to impact my community. The Wildlife Center animals are a constant reminder that I must do the best with what I've got and always try to improve."

Throughout her time at the Wildlife Center, Steinman has created outreach programs for disabled veterans, under-served student populations (including low income students, children with cancer or terminal illness, and the Child Crisis Center), and Southwest Key Programs, which serves unaccompanied minors that are victims of human trafficking.

In addition to presenting wildlife-outreach programs, Steinman also assists with the day-to-day husbandry tasks and medical care for sick, injured and orphaned animals. Whether it's watching a hawk learn to hunt or helping an owl learn to fly again, Steinman feels connected to the animals when they are fighting through their recovery.

The outreach projects which Steinman has created for Arizona Game and Fish have received national attention. She is often sought after to mentor new, returning veterans and represents The Mission Continues at many special events. Recently, she was invited to speak at the 2nd Annual Veteran's Day Gala for The Mission Continues in Missouri, where award-winning journalist Tom Brokaw was the Guest of Honor.

Arizona Game and Fish is privileged to recognize Steinman not only as a veteran, but also as an advocate and leader for wildlife education.