BY MARIELLE D. MARNE | NOVEMBER 22, 2011
L Skincare strives for a younger, more beautiful you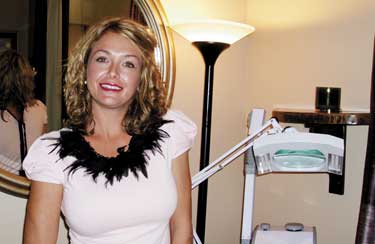 CAVE CREEK – Looking for Lindsay at L Skincare? She, along with manicurist Polina P. and masseuse Danielle B., settled in at Stagecoach Village. Aesthetician Lindsay Jackson welcomes customers, old and new, to come in for facials, waxing, or her specialty, microdermabrasion. She will be honoring all previous series packages, and for November, offers a money-saving buy six, receive four facials free. They don't expire, so use them at your leisure.

Jackson truly believes in what she does. "I'm not about sales, I'm about results. My goal is for my clients to have flawless skin. Anyone who walks out of here is a billboard for my work, so it's important to me they look and feel good. And, no one leaves here red. I soothe the skin so you look more vibrant, younger."

While addressing anti-aging is a priority, Jackson includes a relaxing hand, neck and foot massage. Sound too decadent? Jackson offered, "Luxury should be a necessity." In Arizona's hot and dry climate, taking care of your skin, your overall well-being, should not be viewed as a luxury at all! Jackson has countless clients – men, women, all ages – who are comfortable in their own skin thanks to the pampering at L Skincare.

With the holidays looming, call 917-972-4114 or e-mail ljskincare27@gmail.com for appointments so you'll look rested and glamorous. Gift certificates are available as the perfect treat for loved ones. L Skincare is located at 7100 E. Cave Creek Rd. and is open Mon-Sat and by appointment.
BY MARIELLE D. MARNE | NOVEMBER 22, 2011
Forget biscuits! Treat your pooch to a day of beauty at Desert Dog Spa
CAVE CREEK – Countless surveys reveal what anyone who shares his or her life with a companion animal knows: pets are family. So when you need a groomer, choose one who cares, who is long-tenured, who is recommended by several local vets, who goes the extra mile with bows for female dogs and bandannas for boys.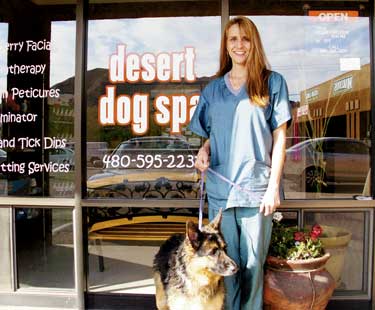 At Desert Dog Spa Pet Grooming, owner Tara Mulliniks-Dieckhoner offered, "I use the highest quality products, including aromatherapy and therapeutic bath products. I strive to accommodate the needs of every pet, whether for skin conditions from allergies or a dog who may be a little timid and needs an extra gentle touch."

Some of the services available at Desert Dog Spa include the typical bathing, brushing and clipping, as well as nail trimming, tick dips and teeth brushing! If your dog (or cat) might be skeptical he NEEDS a spa day, Mulliniks-Dieckhoner said, "I'm willing to work with anyone who may have special needs for his dog. I want all dogs to remember the experience as good." With her soothing voice and limitless patience, all pups big and small will not only look good but will tug on the leash to return!

Grooming appointments are preferred but walk-ins for nail clippings can often be squeezed in while pet parents wait. Be sure to browse the selection of reasonably-priced toys while you sit and stay, too!

Desert Dog Spa, 6554 E. Cave Creek Rd., is open Tues-Sat. Call 480-595-2231 for details.
BY JOHN DE GROOTE | NOVEMBER 22, 2011
Cave Creek Armory offers unique holiday shopping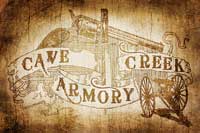 With the holiday season quickly approaching, shoppers may be struggling to come up with gift ideas for loved ones. If you know a gun enthusiast, or even have a family member looking for a form of personal protection, Cave Creek Armory may be your one stop shop.

After opening eight months ago, the word has spread quickly about Cave Creek's only gun store. The customer service Jeff and Joe provide their customers is unrivaled. Gun novices will find comfort in making their purchases with one on one attention, and enthusiasts will find the guys are more than willing to talk shop on some of the latest and greatest products.

Cave Creek Armory carries a variety of goods, from pepper spray to tactical rifles and cowboy action guns. Shoppers will also find truly unique items at the store, some guns being one of a kind collector items. A look at one of these truly exceptional weapons may be worth the trip alone.

The store offers an extensive ammo selection, as well as full gunsmithing and customization of weapons.

You will be hard pressed to find better prices anywhere in the valley, with everything in the store very competitively priced. The store also offers the option for patrons to sell and trade, as well as having gift cards available in any denomination.

For more information on Cave Creek Armory visit www.cavecreekarmory.com, call at 480-595-2858, or stop by the shop to visit Jeff and Joe at 6812 E. Cave Creek Rd. (next to the Circle K and across from Buffalo Chip).
NOVEMBER 22, 2011
AAA honors Arizona resorts, restaurants with diamonds
Phoenix, Ariz., Nov. 14, 2011. Arizona's finest gems have been revealed as AAA announces its annual list of the state's most spectacular restaurants and resorts. This year, the auto club graced 66 Arizona properties with Four Diamond status, while six establishments shined with the travel leader's prestigious Five Diamond status.

"We are delighted to recognize Arizona's finest restaurants and resorts for their excellence in the dining, travel and hospitality industries," said Jim Prueter, travel spokesman for AAA Arizona. "These properties consistently demonstrate their commitment to their guests' comfort, satisfaction and unique experience, and it is our pleasure to honor that commitment."

New to the list this year are four Four Diamond hotels and one Four Diamond restaurant.
New Four Diamond properties include:
Wild Horse Pass Hotel & Casino, Chandler
The Westin Phoenix Downtown, Phoenix
Talking Stick Resort, Scottsdale
El Portal Sedona Luxury Inn, Sedona
New Four Diamond restaurants include:
The Grill at Hacienda del Sol, Tucson

Noteworthy trends for 2012 include:
30 percent of Arizona Diamond Award recipients have received the Four or Five Diamond Award® designation for more than 10 consecutive years.

Sanctuary on Camelback Mountain, Paradise Valley; elements, Paradise Valley; Arizona Grand Resort, Phoenix; and The Westin La Paloma, Tucson, have held their Four Diamond statuses for 10 years.

The Inn on Oak Creek, Sedona, celebrated 15 years of Four Diamond status.

Farm-to-table dining experiences grew popular as Five Diamond Kai restaurant and nearly a dozen Four Diamond recipients boasted locally homegrown cuisine.

Four independent Four Diamond restaurants celebrated consecutive awards as the list's only restaurants unaffiliated with a hotel or resort – Cork, Chandler; noca, Phoenix; Quiessence, Phoenix; and SASSI, Scottsdale.