NOVEMBER 22, 2011
Community service efforts of CSHS's Tommy Gadden benefit 1st Brigade Combat Team
Tommy Gladden senior of Cactus Shadows High School is making a community service effort to raise postage funds and items to mail to the adopted troop of his father's VFW Post 3513. Tommy has been encouraging members of Cactus Shadows High School to adopt individual soldiers to write them letters and send them snacks but is now reaching out to the surrounding businesses in the area. Tommy's father is a 100 percent disabled veteran of Vietnam and Afghanistan. Tommy is soliciting donations in behalf of the trained and ready combat force of the 1St Brigade Combat Team of the 34th Infantry Division (1/34th BCT), Troop 1-194 CAB, adopted by VFW Post 3513. These soldiers are living in Kuwait but working in Iraq under harm's way. Due to come back next summer they are assigned to move an enormous amount of equipment out of Iraq from the bases that are drawing down. They will be spending the holidays away from their families and are working 14-hour days often under sniper fire. Any consideration will be greatly appreciated. The VFW Post 3513 Ladies Auxiliary will be shipping boxes to them as often as possible. The following is a list of items requested. Tommy will pick up donations and drop off a tax donation letter from any business in the Cave Creek/Carefree area. Tommy thanks you in advance for this consideration. Questions can be directed to community service chair Chris Anderson at CAnderson@svdp-phx-az.org or Michelle Gladden at 480-518-1180. Donations toward postage can be mailed to the VFW Post 3513 Ladies Auxiliary for Adopted Troop 1-194 CAB at 7220 E. Wilshire Drive Scottsdale, AZ 85257. (TAX EXEMPT 501 (c) 3 86- 0837273)
NOVEMBER 22, 2011
J. J. Gresco wins Player-of-the-Year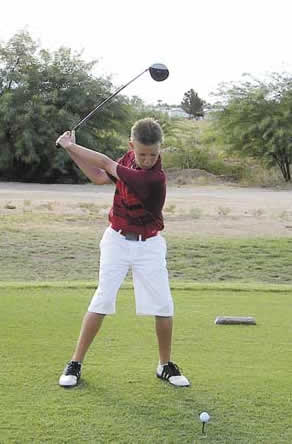 J. J. Gresco, of north Scottsdale, has won the Junior Golf Association of Arizona (JGAA) Player-of- the-Year award for the 11-12 age division.

This marks four years in a row he's won this award. During 2011, he's the JGAA's Phoenix City Champion (also for four consecutive years), Tucson City Champion, Mesa City Champion, Chandler City Champion, Kingman City Champion, and Yuma City Champion. He also won another JGAA title, for a total of seven of them in 2011.

Last month, J. J. won the 2011 Arizona Middle School Athletics Association (AMSAA) Golf State Championship.

Congratulations to J. J. on a great year of competitive golf.


NOVEMBER 22, 2011
Being an American Essay Contest deadline approaches
Students can win up to $1,000 in national essay competition
ARLINGTON, Va. – The deadline for high-school students and their teachers to submit essays for the Bill of Rights Institute's national Being an American Essay Contest is fast approaching. The Contest asks students to explore the Founding principles outlined in the Constitution by answering the question: "How does the Constitution establish and maintain a culture of liberty?"

The Contest, which has quickly become the largest high-school essay competition of its kind, totaling over 80,000 submitted essays, is administered by the Bill of Rights Institute, a non-profit educational organization in the Washington, D.C. area devoted to educating young people about the Constitution and Founding principles.

"This contest is unique in that it gives students the opportunity to think about the important Founding principles communicated in our Constitution," said Dr. Jason Ross, Bill of Rights Institute Vice President of Education Programs. "This contest is vital to helping students see the Founding principles as a meaningful part of the American experiment of self-government."

The top three student winners from each of five geographical regions (Arizona is in the Western Region) will be awarded cash prizes of $1,000 (First Place), $500 (Second Place), and $250 (Third Place). Teacher sponsors of each student winner will also receive a cash prize of $100.

Essays must be submitted online at www.BillofRightsInstitute.org/submit by 11:59 p.m. PST on Dec. 15, 2011. Supporting contest materials, including lesson plans meeting Common Core standards, are provided at no cost to teachers who want to incorporate the Essay Contest into their classroom.

The Essay Contest serves as a key part of the Bill of Rights Institute's mission to educate young people about the words and ideas of America's Founders, the liberties guaranteed in our Founding documents, and how our Founding principles continue to affect and shape a free society.

Students in grades 9-12 who are U.S. citizens or legal residents and are either attending public, private, religious, or charter schools, being home-schooled, or participating in a GED or correspondence school program but are no older than 19 years of age. Military bases and U.S. territories are also invited to participate.

Essays can be no more than 1,000 words. Winners will be announced February, 2012.
Website and contest guidelines: www.BillofRightsInstitute.org/Contest.