NOVEMBER 22, 2011
Eat, drink and be merry – for the Arts and Artists of tomorrow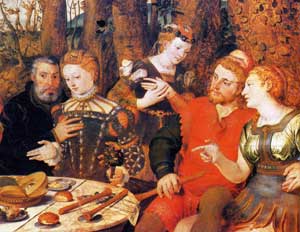 ANTHEM – As the Holiday Season approaches many of us look for opportunities to give something special to those around us. Whether loved ones or friends, colleagues or complete strangers, a spirit deep within inspires special generosity toward those who share life in this beautiful place we call the North Valley.

In this time of celebration and giving, you can give a gift to future generations while celebrating a tradition from centuries ago. Join the Renaissance Yuletide Feaste on December 17 and 18, where the joyous holiday traditions of Merrie Olde England will be recreated in the Great Hall of The Ironwood Castle (within the sturdy walls of Anthem Golf and Country Club) and where the Royal Renaissance Singers will lead guests in Feaste and Frolic to celebrate the Season. Rich costumes, beautiful a capella singing, Royal tapestries and a sumptuous five course repast await the Lords and Ladies in attendance.

Proceeds from the Renaissance Yuletide Feaste will support ACNV's Arts in the Schools programs, which bring professional music and dance performances to local schools and provide opportunities for young artists to exhibit their talents and compete for awards and scholarships.

Tickets to the Renaissance Feaste are $85 per person by calling 623-205-5608; period apparel is both permitted and encouraged. For more information visit http://acnv.org/news-a-media/42-acnv.html.

The arts are among the most magnificent aspects of our lives here, and this year the Arts Council of the North Valley presents a way for you to celebrate the Season with fun and frivolity - and provide a truly special gift to the young artists and audiences of tomorrow.
May you have many, many reasons for gratitude this Thanksgiving. No doubt the arts in our community will be high on your list!
NOVEMBER 22, 2011
Family weekend at Pioneer Village Nov. 26 – 27
Come to Pioneer Living History Museum (PLHM) to experience life as it was lived in the Arizona Territory from 1862 to 1912. Hop on the Pioneer Trolley or arrange a guided tour of the Village. Listen for the pre-arranged signal (two shotgun blasts) that let you know that the Guns of Pioneer will soon be shooting it out in the recently "spruced-up" Ciganville Stage-area.

Sing along with our Pioneer Musicians; watch as Pioneer craftsmen impress you with their creative skills; and spend some time in Village homes and buildings, visiting with our knowledgeable docents. Come Saturday to watch the Fast Draw Competition. It's going to be a great weekend at PLHM, so don't let your family miss this monthly event, specifically designed to create lasting memories for everyone in your family: adults, children, and the young-at-heart.

Pioneer Living History Museum is located off I-17 at Pioneer exit 225. It is just south of Daisy Mountain and north of Carefree Highway. Open daily; Wednesday through Sunday, 9:00AM to 4:00PM; entrance fees are $7.00 for adults, $5.00 for students 5-17 years, $6.00 for seniors 60+. Children under 5 years of age are free. You can find more exciting Pioneer events and information at: www.pioneeraz.org or call them at: 623.465.1052.