MY VIEW BY DON SORCHYCH | NOVEMBER 9, 2011
Do you remember?

Before I came to Arizona in 1985, I belonged to the Melbourne, Florida, Hunt Club. I was dimly aware of the hunt club after my 1960 arrival in the Melbourne area, but it was mostly a mystery until a Realtor named Stan Koller moved into my neighborhood. Stan was a friend of everyone in the club and secrecy was an unwritten policy since any hunter would jump at the chance to be a member. Hurtles were high since someone would have to die to create a membership opening.
Stan held a party that included two members of the club, Jimmy Holmes and Surgeon Jim Sewell. Holmes was a local insurance agent, had founded the local hospital, was on a bank board, was generally respected and well liked.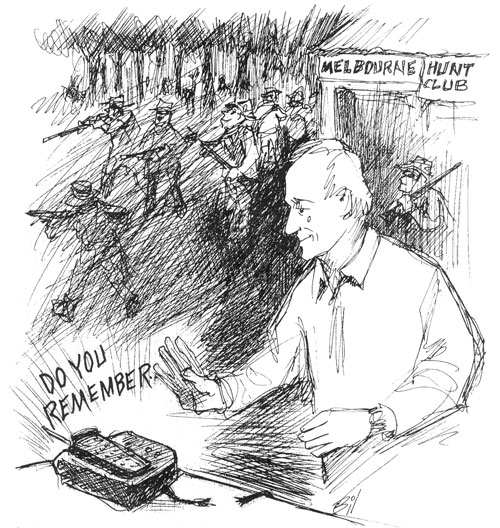 After several lunches, he said he would endorse me, but I had to meet all 23 members and seek their vote. In every case, the club members were doubtful, since they were all native born southerners and I was a Yankee. In every instance, the interview ended with them saying if Holmes endorsed me they would reluctantly go along.
The hunt club, part of a 25,000 acre ranch owned by the Kemper family, was divided into four sections with six members in each camp. Each location had a covered shed which included a propane refrigerator, stove and table, which easily seated six.
Club cooks were easy to find for the first ten days since they were allowed to bring a .22 rifle and they often killed squirrels and raccoons to take home and eat.
Each camp was required to rotate to the next camp annually and could only hunt their camp during the first ten days of the season. The first ten days was a hoot and everyone looked forward to the adventure. A week before the beginning of the season we moved our trailers and vehicles to the new location. We cut deadfalls for firewood and also got "lighter pine," which was restricted by the rancher since it could be sold as a cash crop. But lighter pine did create a dramatic bonfire.
After a long day's hunt we sat around a roaring fire, with adult beverages in hand and shared our hunts. Although some of us had showers connected to a deep well, some didn't and we were a mangy lot by the time we went home. Shaving was frowned upon as was not staying the full ten days. Leaving early earned you the title of PW and you can figure that out.
Hunting was exceptional. Some hunted any legal game while some hunted only turkey or deer. State legal limits were meager. Most killed several limits in a season, but they were never wasted.
The land on which the ranch resided was interesting. There were ample pine-studded plains with groves of saw palmettos. The ranch was bisected by swamps with streams and lakes which were game rich and also full of fish, alligators and snakes.
It was easy to get a limit of largemouth bass, but upon entering the water you were vulnerable to big "gators." Alligators were on the endangered species list in those days. Everyone had close encounters with rattlesnakes and water moccasins, but we all wore snake boots. Without that protection some would have been bitten, but none were to my knowledge.
The timing of this column is due to annual memories of Bud Stewart, a chiropractor as well as a hunting and fishing buddy. Every year, after I moved out here, Bud would call and begin with, "Remember when" and regale me with an almost forgotten experience in the hunt camp. Season started on Nov. 11 in Florida and many places in the country.
He and I hunted nearly every weekend, starting with bow hunting in September when mosquitoes were their most voracious and the heat and humidity were overbearing. The regular season went from Nov. 11 until the first week in January and how could the spring gobbler season be forgotten?
Bud once recalled the day when there was a slow drizzle and we drove around in my Jeep Wagoneer because our open hunting vehicles weren't suitable. That day we saw numerous flocks of turkeys and dozens of deer. We each killed a buck and a couple of turkeys.
Thereafter we prayed for that kind of day so we could repeat the fabulous hunt.
Another time he called about a fishing trip he, Sewell and I had in Alaska in July of 1978. We lived on Coho salmon the entire trip. Every morning, lunch and evening he would fire up his camp stove, cook two pounds of bacon and while Sewell and I ate the bacon he would cook salmon in bacon grease. He refused to consider simply cooking the salmon on the grill.
During that call he conceded his cooking was a factor in the heart attack I had in December of that year. Why? He and his wife had bought a cabin in Montana and he trained for an upcoming hunt by putting on a back pack and climbing mountains. He too had a heart attack and bypass surgery.
Eventually the calls stopped and it was long after his death I heard he died. Today, three of the six from that camp are alive. Me, Dr. Frank Fain and Attorney David Strawn. The happy hunting ground, or heaven, is populated by Bud, Jim Sewell, Jimmy Holmes and Andy Seminick, the retired baseball great. Yes, that is seven Sewell had transferred to the "Sea Room Camp," much to our chagrin, but we had many years of his friendship.
These men were a wonderful part of my life and I am saddened I can't pick up the phone and say, "Do you remember …"