NOVEMBER 2, 2011

Registration opens Nov. 5 for Phoenix Parks winter classes
Registration opens this Saturday, Nov. 5 at 10:30 a.m. for the Phoenix Parks and Recreation Department's full schedule of winter classes and programs. The full winter class and sports schedule now is viewable online in the Classes and Programs link at phoenix.gov/parks. When registration opens, residents can register online 24 hours a day, seven days a week with any major credit card. Participants also can register in person at any community center during normal operating hours.

Parents can register their kids for everything from youth sports leagues and clinics to performing arts to fitness. Adults can choose from an equally wide range of classes whether they're looking to get active and fit, learn a new skill or just polish up an existing one.
Winter session classes run generally from December through February and boast affordable prices, experienced instructors and convenient times and locations. For thousands of participants each season, classes are a fun way to develop new skills and get active.

Information on the Phoenix Parks and Recreation Department's classes, parks, preserves and facilities also is available by phone at 602-262-6862.
McDowell Sonoran Conservancy celebrates fall in the McDowell Sonoran Preserve
SCOTTSDALE – On November 4 and November 5, 2011, the McDowell Sonoran Conservancy (MSC), the non-profit organization that works in partnership with the City of Scottsdale to champion the completion and sustainability of the McDowell Sonoran Preserve, will celebrate cooler weather in the Preserve with special family activities.

First, the First Friday Family Sunset Series continues on the first Friday of the month, where MSC presenters make the desert plants, animals, rocks, and bright open sky come alive in fun, educational programs specifically designed with families in mind. On Friday, November 4th at 4:30 p.m. the Shake, Rock and Roll: "Are there volcanoes in the McDowell Sonoran Preserve?" free, public program will provide an eruptive and fun ride along the lava flows back through time, for an interactive look at earthquakes, eruptions, and rocks found right in our own backyards.

Dog experts and trainers will be on hand for a morning in the Preserve with man's best friend on Saturday, November 5th from 8 a.m. to 10 a.m. Dog Days of Fall is a free, public event that will feature hiking-with-your-dog safety tips, a snake-avoidance training demo and the beautiful surroundings of the Preserve for a perfect way to celebrate hiking with canine companions.

Both events will be held at the Gateway Trailhead, 18333 N. Thompson Peak Pkwy in Scottsdale.

About the McDowell Sonoran Conservancy
The continuing mission of MSC is the preservation, completion, and sustainability of the McDowell Sonoran Preserve. This goal includes providing public access to the Preserve and increasing the community's understanding and appreciation of the Preserve through educational programs and community events. By integrating the Preserve into the fabric of the Scottsdale community, the MSC is focused on ensuring future volunteers will continue to champion its protection for generations to come. For more information, visit www.mcdowellsonoran.org.
NOVEMBER 2, 2011
Tonto National Forest announces final fee-free day for 2011
Veteran's Day is fee-free day
Phoenix (October 31, 2011) Tonto National Forest recreation specialists announced today that they are joining with other agencies included under the Federal Lands Recreation Enhancement Act (FLREA) in hosting a final "fee-free" event for the year on Veteran's Day, Friday, November 11.

Day-use fees will be waived at all standard amenity fee sites operated by the forest for these listed dates.

During all other times, the Tonto Pass is required at more than 50 recreation sites including Salt and Verde river locations, boat launch ramps, swimming areas, day use areas, and campgrounds.

Information about the Tonto Pass fee program and a list of Tonto Pass vendor locations is available at the Tonto National Forest website, www.fs.usda.gov/tonto, or call the Tonto National Forest at 602-225-5200.

The other forest fee-free days this year were National Get Outdoors Day in June and National Public Lands Day in September.

The U.S. Forest Service mission is to sustain the health, diversity, and productivity of the nation's forests and grasslands to meet the needs of present and future generations. The agency manages 193 million acres of public land and is the world's largest forestry research organization.
Largest collection of venomous snakes in Arizona to get state-of-the art home
Thanks to donation, PHS to unveil new "venom room" that gives public remarkable look at creatures
SCOTTSDALE – Valley residents and visitors can get an extraordinary, up-close look at rattlesnakes, a black mamba and other venomous snakes at the Phoenix Herpetological Society's reptile sanctuary and education center in North Scottsdale.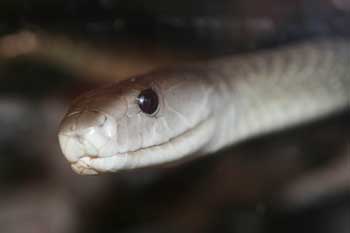 A glass-enclosed venom room will house the largest collection of venomous snakes in the state. With 82 different species and subspecies – including a black mamba (r), widely considered one of the world's most lethal snakes – the reptiles also comprise one of the largest collections of venomous snakes in the western United States.

A donation from Exo Terra, a division of pet-supply manufacturer Rolf C. Hagen Inc., will allow the Phoenix Herpetological Society (PHS) to complete the room for tours beginning next month. Valued at approximately $30,000, the donation includes secure natural terrarium enclosures for the snakes and other equipment. The 1150-square-foot display and research space, enclosed with floor-to-ceiling glass, will house more than 180 animals.

The secure, temperature-controlled room is located in PHS' new education facility at the reptile sanctuary. Visitors will be able to see PHS staff feeding and caring for the snakes, as well as get an up-close look in a safe and educational way.

Tours of new facility start in November.

The new venom room, part of PHS' new education center, will be open for tours beginning the week of Thanksgiving (Nov. 19 through 26).

PHS' handicap-accessible education facility is the only classroom in the state dedicated to reptiles. Its conservation curriculum includes reptile species of Arizona and their role in our ecosystem, desert safety and endangered species from around the world. Education programs include a summer camp for kids and classes for elementary, high school and college students will be provided at the facility, as well as programs for law-enforcement, emergency responders, and humane societies.

Tours are $20 for adults and $15 for ages 4 through 17, with free admission for children 3 and younger. To book a tour of the Phoenix Herpetological Society, call 480-513-4377, and select option 4, or send an e-mail to Debbie@phoenixherp.com.

Courtesy photo by Phoenix Herpetological Society
Southwest Wildlife Conservation Center Hosts Hope Kids Halloween party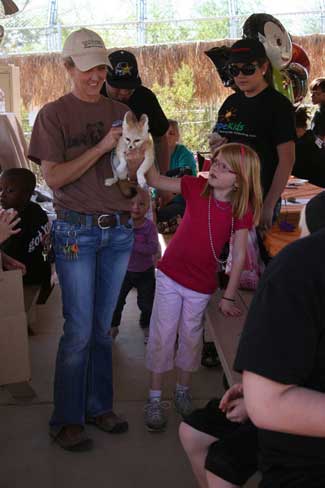 Southwest Wildlife Conservation Center (SWCC) hosted a Halloween Party for "HopeKids" Saturday, Oct 29, at its north Scottsdale wildlife sanctuary. HopeKids is an organization for kids with cancer or other serious illness.

The HopeKids and their families enjoyed a tour of the facility, where they saw mountain lions, a bear, bobcats, coyotes, javelina and Mexican gray wolves. After the tour, Kim Carr, SWCC educational director, gave an educational presentation, where they got to meet Moccasin, the Great Horned Owl, and pet Sahara, the fennec fox, while they enjoyed pizza and cake. At the end of the program, the children received a stuffed animal of their choice and got to feed carrots to Diva the donkey, SWCC's mascot.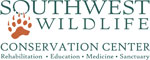 Tours of SWCC available to the public
Tours are available by appointment and must be scheduled in advance. Visitors may see up close coyotes, foxes, raccoons, Mexican gray wolves, mountain lions, javelina, mule deer, bobcats, bears and other wildlife.

Tour fees are $10 for ages 16 and older and $7 for children 3 through 15. To arrange a tour, contact the SWCC Education Department at 480-471-3621.

Southwest Wildlife Conservation Center is at 27026 N. 156th St. (156th St. and Dynamite Road/Rio Verde Drive in Scottsdale.