NOVEMBER 2, 2011
Fragmented figures and magical realism focus of Valley sculptor
Cave Creek, AZ (October 25, 2011) – Admittedly, she is not a traditional sculptor. Jaye Lawrence's pieces can be described as edgy and unusual. But that's what makes them so fascinating.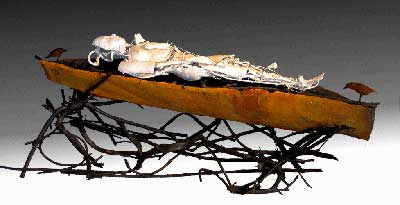 "I love to work in mixed media," Lawrence said. "With clay I incorporate any natural materials I can get my hands on, including sticks, twigs, roots, even bones."

Her life-size figures are fragmented. An arm may be replaced with a branch. "I do this because the forms seem to have more motion," she explained. "The brain tries to connect and make a full sculpture of it. The illusions I play with are both figurative and environmental. It's a Mother Earth type of approach."

When not working on large pieces, Lawrence enjoys creating smaller animal sculptures which take on human shapes, combining the ordinary with mythical and magical with realism.

"In other cultures these creatures are very common and the basis of mythology. But the concept is foreign in our Western culture. That's the appeal."

Her bird humans can be whimsical or representative of Native American beliefs of the raven creating Earth or other cultures that believe birds are the messengers transporting people to the next world.

Lawrence has been sculpting all her life, grade school to graduate school. She holds a Bachelors of Fine Art degree from the University of Arizona and a Masters of Fine Art degree from Arizona State University in sculpture.

Her husband Les is also a noted sculptor. Their studio is located at their Carefree home. "He works at one end of the house and I create at the other end," Lawrence said.

Together they participate in the ASU Ceramic Research Center tour and the Sonoran Arts League's Hidden in the Hills studio art tour.

"We jumped right into Hidden in the Hills three years ago," she explained. "We've been thrilled with the response. Collectors have come to our studio and we've met many interesting people. Some we recognize from years before and they keep coming back."

For the Lawrences, Hidden in the Hills has been a profitable venture. "We didn't know exactly what that first year would be like, especially with the poor economy. But we did well and continue to do so!"

For more information visit: www.jayelawrence.com or contact: jayelawrence@cox.net



The 15th Annual Hidden in the Hills Artist Studio tour is scheduled the last two weekends in November: Friday-Sunday, Nov. 18-20 and Friday-Sunday, Nov. 24-27, 10 a.m. to 5 p.m.