BY MARIELLE D. MARNE | SEPTEMBER 28, 2011
AZ Hydro breaks new ground with soil-free growing
CAVE CREEK – Heat. Likely mortal enemy number one for plants. But there's a way to beat Mother Nature and her cadre of pests, draught, even hungry wildlife. AZ Hydro Wholesale has everything you need for viable plants grown without soil ... and inside! "It's the wave of the future," general manager Evan Hayford concurred.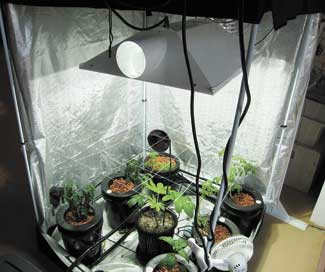 There are countless options for growing healthy and beautiful flowers and vegetables. Tell the staff what you want, provide budget parameters and they'll work with you to make it happen. There's a cost-effective, all-in-one Microgarden by Botanicare that's a great starter kit for under $300. All you need to add is plants and water and your bounty of produce will have it paying for itself.

Owner Cory Pritchard has stocked the shelves with everything you need: filters to pumps to fertilizers and Roots Organic 707 dirt (a top seller). However, the store is still evolving. Patrons will not only find competitive pricing, but also what many stores lack, a plethora of advice and guidance. Since the hydroponic industry is new to local consumers, the AZ Hydro Wholesale team is more than happy to offer consults so clients can find out exactly what they need to not only buy but to do once systems are set up at home.

Because the "traditional" growing season is ending, now is an ideal time to establish plants hydroponically and give them a head start for next spring. Find out how by visiting 4705 E. Carefree Hwy. or online at azhydrowholesale.com. For hours, phone 855-AZ-HYDRO.
SEPTEMBER 28, 2011
Purses, 'Fitzsimmons Mile' Stake Raised for Turf Paradise's New Season
PHOENIX – Horsemen will get the best kind of "Welcome Back to Turf Paradise" as the track announced a 10 percent hike in overnight purses and a 26 percent increase in stakes purses for the upcoming race meet.

A 157-day meet will run from October 1 thru May 6, 2012. Live racing will be conducted 5 days a week, primarily Friday through Tuesday.

The Cotton Fitzsimmons Mile, named after the late coach and executive of the Phoenix Suns, and the Turf Paradise Derby have each been raised from $50,000 to $75,000. In addition, 32 other stakes have been boosted from $25,000 to $35,000.

The Cotton Fitzsimmons Mile will be run on January 14 and the Turf Paradise Derby on February 25.

"We've experienced an influx of wagering revenue this summer due to the in-state OTB system being operated by us," said track general manager Vincent Francia. "We continue to pass along the benefits to our horsemen for the upcoming meet."

Turf Paradise took over the OTB system May 30 when Yavapai Downs was unable to open their summer meet.

A total of 206 trainers representing 2,010 horses and hailing from 22 states and four Canadian provinces are expected for the upcoming meet.

Turf Paradise is getting off to a strong start in October. In addition to Opening Day on the 1st, Monday October 10th will see them celebrate Columbus Day with $2 Draft Beer and $1 grandstand admission. On Saturday October 22nd Turf Paradise will celebrate its first ever Beer Festival featuring craft beers from micro breweries and live music.

To keep up with events and announcements check out their Facebook page or visit www.TurfParadise.com.
Horny Toad tradition to benefit Foothills Food Bank continues
Silent Auction Oct. 12 – 17 of photos autographed by actors and sports figures
CAVE CREEK – The tradition of the Price family, owners of the Horny Toad, to give back to the community continues in October. There will be a week-long opportunity to acquire unique photos autographed by popular actors and sports figures in support of the Foothills Food Bank. Lori S. Kirby handles the auction through her company, PSA Sports Auctions, Inc.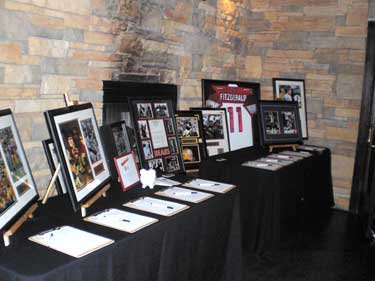 The silent auction takes place at the Horny Toad restaurant at 6738 E. Cave Creek Road Oct. 12 – 17 during their normal business hours Sunday – Thursday 11 a.m. – 10 p.m. and Friday and Saturday from 11 a.m. – 11 p.m.

Those of us lucky enough to live in the area often enjoy their famous fried chicken, BBQ, steaks, desserts and more. Visitors to the area will love the Horny Toad experience – great food and spirits from their tasty menu and super friendly service in a Western atmosphere.

The Foothills Food Bank and the Price family thank you for your support!

For more information stop by, call 480-488-9542 or visit www.thehornytoad.com.