SEPTEMBER 28, 2011
Buffalo Chip celebrates 60th Anniversary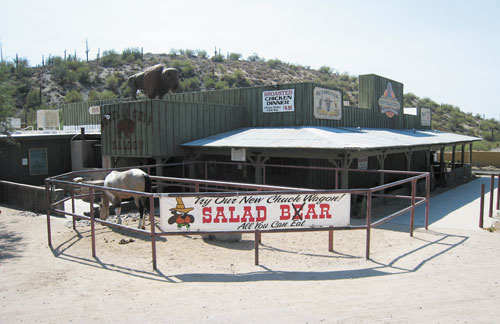 It all started in 1951. The now famous Buffalo Chip Saloon and Steakhouse has come a long way since its humble beginnings as a saloon and then a feed and bait shop along the way to Bartlett and Horseshoe Lakes. The original building was only 800 square feet on about two-thirds of an acre. Today it has grown to encompass 5 acres and over 6,000 square feet and has become one of the most authentic dance halls and saloons in the country.

The New Times voted The Buffalo Chip "Best of Phoenix" for 3 years. True West awarded The Chip "Best Western Saloon" 2 years in a row and Phoenix Magazine has voted it "Best of the Valley" for 2 years. They have been on the front page of the New York Times.

There is something for everyone at The Chip. If you like to dance they have live music and dancing seen nights a week. Wednesday and Friday night's Live Bull Riding and Friday night's All You Can Eat Fish Fry are huge draws for the entire family. The Buffalo Chip is the Arizona home of the Super Bowl champion Green Bay Packers.

Larry Wendt has been the proprietor of The Buffalo Chip Saloon since 1999 and has made it what it is today. Over the years it has been known as The Crystal Palace, The Maverick and finally the place we have all come to know and love, The Buffalo Chip Saloon and Steakhouse.

"4,000 pounds of barbeque, 5,000 bottles of beer and 6,000 customers a week – we must be doin' something right!" says Wendt.

The Chip is at 6811 E. Cave Creek Rd. in cave Creek. Call 480-488-9118 or visit www.buffalochipsaloon.com.