BY LINDA BENTLEY | SEPTEMBER 21, 2011
Town discusses economic vision for Carefree
Carefree urges stakeholders to respond to surveys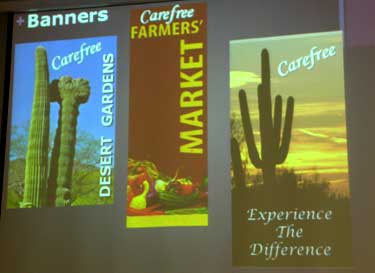 During her presentation of projects currently underway in Carefree, Vice Mayor Melissa Price displayed examples of some of the banners the town recently ordered to liven up the town center.
Photos by Linda Bentley


CAREFREE – Following a short, one-item-agenda special council meeting, during which council unanimously approved closing a section of Mule Train Road in front of the Carefree Resort from 8 a.m. until midnight on Jan. 21, 2012 to accommodate a hot air balloon festival, council reconvened for its economic visioning workshop.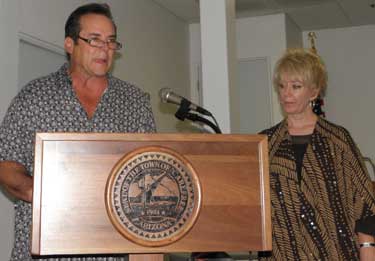 Vice Mayor Melissa Price (on right, pictured with Councilman Mike Farrar) presented a brief overview of the Carefree economic development plans being discussed for Carefree for the short and long term – with long term meaning 50 years – along with some projects currently under way.

This was the third of three visioning workshops, primarily directed toward the stakeholders, or business community.

Price and Councilman Mike Farrar, council's economic development liaisons, emphasized the town's desire to hear from Carefree's business community as they work toward improving the business climate in Carefree and urged stakeholders to complete the survey online at: www.surveymonkey.com/s/carefreebusiness and e-mail council@carefree.org with any suggestions they may have.

Farrar said he attended an Urban Land Development Institute public and private workshop that day where former Transportation Secretary Mary Peters was the keynote speaker.
He said the surveys were important to help craft a shared vision, so less possibility exists for opposition to any given project.

He also provided an example of creative funding mechanisms, suggesting the town could offer 1,000 bricks to help fund a splash pad and ground lighting for the sundial, whereas people could donate $100 to have a brick engraved with their name or business name to be integrated into the splash pad.

That would equate to $100,000 in donations, while the cost of the bricks, including engraving and freight would come to approximately $18,000.

Price said some of the issues with the business community have to do with outlying businesses, such as Carefree Studios, Montana Plaza, Mariachi Marketplace, Carefree Marketplace, etc., that feel left out of the planning because they are not in the town center.
Some of the short-term plans to integrate the outlying businesses and let visitors know they are in Carefree, include changing street signs to identify Carefree both by name and with a sundial logo; colorful banners in the town center; signs to let visitors know where the visitor's center is located; and 21st Century Technology, such as the recently approved free WiFi access in the town center.

Other parts of the master plan suggested additional parking, which Price said could also bring disparate business centers together; entry gateways into the town; and balustrades and pots for flowers, to provide color and a connecting theme to the other business areas.

Mayor David Schwan explained there were many aspects of the economic development plan being researched at the same time and said the town was looking into whether Carefree, which now has no debt, needs to maintain cash reserves of approximately $4 million or if some of that money could be put to better use.

Price said they have discussed other ideas at previous visioning workshops, such as one-lane roads with bike lanes and sidewalks, to give the town a more integrated feel.

However, she stated an engineering study would be required before they could implement such a plan.