BY LINDA BENTLEY | SEPTEMBER 21, 2011
Rezoning recommended for Cave Creek and Yolantha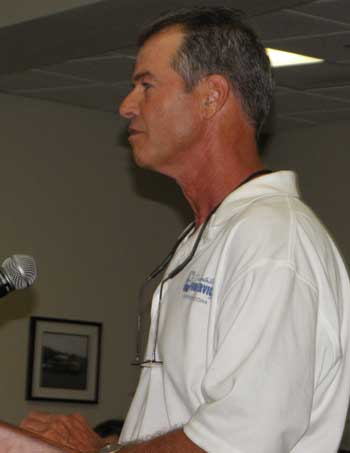 CAVE CREEK – On Sept. 15, with Commissioner John Ford absent, the planning commission voted unanimously in favor of recommending rezoning approval from Desert Rural to General Commercial for applicant Chuck Ulrich (r), owner of Desert Foothills Pool Service, for his property located at the northeast corner of Cave Creek Road and Yolantha Street.

Ulrich told the commission his family business has been going for 26 years, he intends to keep everything on the property as is and just wants to put up a sign, which he cannot do with his home occupation permit but commercial zoning will allow.

The Cave Creek General Plan was amended last year to allow for mixed use on Ulrich's as well as other properties, paving the way for the rezoning.

In announcing there were no planning commission cases scheduled for October, Planning Director Ian Cordwell announced the next meeting would be Nov. 17 to review the Town Core Plan.