BY LINDA BENTLEY | SEPTEMBER 21, 2011
Assailant takes three out of five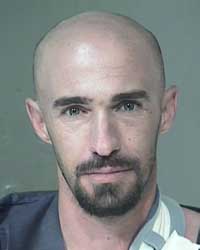 DESERT HILLS – Thomas Charles Boyd, 36, required a little more than a pit stop at the hospital to be treated for three gunshot wounds before being booked into the Maricopa County Jail on Sept. 19 on one count of second degree burglary, two counts of aggravated assault and two warrants issued by the Mesa Police Department for failure to appear and driving with a suspended, revoked or canceled license.

Maricopa County Sheriff's deputies responded to a 911 call at around 1:30 a.m. on Sept. 18 at a residence in the 36700 block of North 17th Avenue, where a couple reported someone breaking into their home.

A subsequent call to 911 was made from a house across the way to report hearing gunshots.

According to MCSO, Boyd was visiting friends at that house across the way from where the incident occurred and said the homeowner was complaining about her neighbors.

Boyd then allegedly said something to the effect of, "I'll show them," and started over to the neighbor's house by himself.

One of Boyd's friends said he heard glass break, which is when Boyd apparently threw a rock through the neighbor's bedroom window.

The rock landed in the bed, hitting the husband in the leg, which woke him up to Boyd breaking into the room through the window.

The husband grabbed his 9mm pistol and then pushed against the shutters to keep Boyd out, while verbally warning him to stay out.

As Boyd continued to push his way in through the window, the victim fired five rounds, two of which hit Boyd in the arm with a third round entering his butt and exiting his groin area.
Meanwhile the victim's wife was calling 911.

Boyd returned to his friend's home, where they helped him clean up the blood and change clothes.

However, because someone called 911 from that home as well to report gunshots, when MCSO deputies arrived to question them, they learned Boyd's friends were trying to help Boyd conceal his involvement and found Boyd's bloody clothes hidden in the washing machine.

Boyd was taken to the hospital to be treated for his gunshot wounds and was released to MCSO custody the following day.

Boyd is currently being held at the Lower Buckeye Jail in lieu of $25,900 total bond.