BY PETE MOHR | SEPTEMBER 21, 2011
Cactus Shadows' 7th Annual Homecoming Parade ("It's a Superhero Homecoming!") Saturday morning, Sept. 17, 2011
Inaugural "Falcon Homecoming 5K Run" draws 144 participants, Sunday, Sept. 18
CAVE CREEK – Sunday morning, Sept. 18: Some ran. Some walked. Some pushed their little folk in strollers. But together, they numbered 144, a participation success ensuring the establishment of the "Falcon 5K Run" as a Cactus Shadows Homecoming tradition.
Keep reading and view photo portfolio ...

BY PETE MOHR | SEPTEMBER 21, 2011
Six turnovers kill Falcons at Queen Creek, Sept. 16; Bulldogs wear down undermanned 'Birds, 43-12
Improved run defense sparks optimism for Homecoming success Friday against Prescott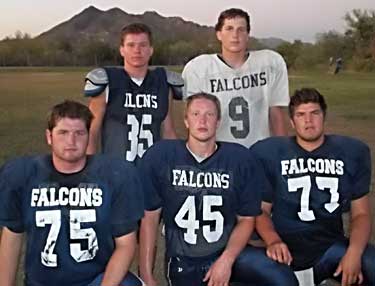 These Falcons five did mightily strive! "Mr. Everything," junior "R.J." Anderson (back, l.), rushed 34 times for 130 yards, returned kicks and played a solid safety; linebacker junior Nick Molchan recorded eight unassisted tackles. (Front, l-r) senior "warriors" Landon Weaver, Tommy Pritchard and Saul Monteon played "both ways" to help meet Defensive Coordinator P.J. Green's goal of stopping the Queen Creek run. Next targets for "The Mean Green": a pass rush and an air game shut-down. Photo by Pete Mohr

As previously opined in this newspaper, "Stick around high school sports long enough and you're guaranteed to see something for the first time." As Falcon up back Liam Morales fielded the short opening kickoff at the north end of the field, the Queen Creek mascot (a bulldog, of course) got loose from his handler and narrowly avoided being trampled in the stop of Morales at the CSHS 35. For the Falcs, that moment would prove to be the only hilarity in a l-o-n-g Friday night a l-o-n-g way (some 65 miles) from "The Roost." The host 'Dogs turned six interceptions (four in the 1st half) and fresher legs in the 2nd to pull away to a 43-12 Homecoming victory. The Southeast Valley Q-Creekers staged a spectacular postgame fireworks show that offered Falcon fans little, if any, consolation.

This writer found CSHS falling to 0-4 somewhere between "frustrating" and "discouraging." With six games to go in the regular season, the 'Birds can't afford to feel sorry for themselves. The 2-2 Prescott Badgers will be at Falcon Stadium Homecoming, Friday evening, Sept. 23, 7 p.m. kickoff, making the first of three straight home games: Barry Goldwater, Sept. 30, and Horizon, Oct. 6. Before boarding the team's homebound bus, a Falcon who'd given his all anguished, "Pete, we gotta win a game!" He's right: let that game start at Homecoming. Suck it up, Falcons, and stop the losses. You've got the fight; now find the focus.

Sonoran News, Wednesday, Sept. 14: "As the 0-3 Falcons seek to regroup at 3-0 Queen Creek, Bryce Kinsler leads all Arizona quarterbacks in total passing yards." In this writer's native Alabama, the "Bubbas" might observe, "Pete, you done put the 'bad mouth' on ol' Bryce!" Maybe – but not intentionally. Kinsler's six interceptions derailed the Falcon "O" and set up four Bulldog touchdowns. No one was more disbelieving – or disconsolate – than Bryce.

Muscle contusions in his right calf had kept Kinsler out of practice all week; and he took the field with a Courtney Runner special bandaging of his injured calf. His push-off strength from his right leg had to be limited, which I objectively suggested to Kinsler postgame. But he wasn't buying my honest attempt at consolation: "My leg didn't bother me. I just missed my reads." In his 15 starts, 2010-2011, a "bad night" was all but guaranteed to catch up with him; but playing hurt didn't improve his odds. Take this to the bank of your choice: Kinsler will be back, because you can't keep a good man – or quarterback – down. Bryce Kinsler is a very talented football player – and a total class young man.

After the real bulldog was coaxed from the field, the Falcons took only nine plays to score on a Kinsler sneak from a half-yard out to go up, 6-0, with only 4:47 off the clock. Connor Folts' P.A.T. try, from a high snap, was tipped at the line and fluttered beneath the crossbar. The Falcs would not score again until 9:49 of the 3rd period. A 20-yard pass from Kinsler to Matt Hartlen at the left goal line pylon capped a 66-yard drive that was all "R.J." Anderson.

Replacing Kinsler at QB, the speedy Anderson took seven straight direct snaps all the way to a first down at the QC 20. He got five yards to the 15, then lost five on a high snap he couldn't collar. Back in came Kinsler to toss the scoring strike to Hartlen, extending Kinsler's TD-pass streak to 15 games. His pass-for-two conversion attempt, intended for Folts, was knocked down. Offensively, that was "it" for the 'Birds.

The worn-down Falcs, outnumbered once again from the the pregame warm-ups on, would yield touchdowns at 1:57 and 8:47 of the 4th quarter to make the final, Queen Creek, 43 – CSHS, 12. "Outnumbered," readers, is not an "excuse," but an "explanation." Key injuries have left these Falcons talent-thin; and until the nighttime temperatures cool down further, having to use their best players on both sides of the ball works against them. Ask Quad-Captain Tommy Pritchard, a warrior, who suffered severe leg cramping in the 4th quarter and had to be dragged to the sideline.

Keep fightin', Falcs! Get your first "W" against Prescott, CSHS Principal Steve Bebee's alma mater, Class of 1984. I like the HomeBirds, say … 28-20.
BY PETE MOHR | SEPTEMBER 21, 2011
Pre-game ceremony, Friday, Sept. 23, will honor the memory of Gregory Duane "Greg" Barker
Football Falcon, U.S. Marine, Navy Seabee, Army Cavalryman, beloved son, brother, husband and father
I never had the privilege of knowing Greg Barker. And he quarterbacked the Football Falcons (1989, 1990) some 12 seasons before I became the sports reporter for Sonoran News. But it's easy to discern from the accompanying photographs, thoughtfully provided by his Cactus Shadows sweetheart and first wife, Heather Rae Viti, Cave Creek, that in his too-short 38 years, Greg Barker lived – and embraced – the life of a "warrior." Tragically, he died, as a passenger, in a single-car accident, April 24, 2011, in Attica, Kansas, where he was working with his father, Larry Barker, on a homebuilding project for a family member.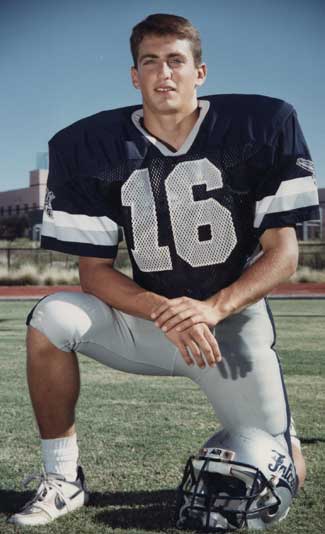 This Friday evening, Sept. 23, at midfield, before the CSHS Homecoming Game against Prescott, Cactus Shadows will honor Greg's life – especially his service to our Country – by presenting to his and Heather's son, Gregory Duane Barker, II, 19, a Falcon jersey bearing Greg's No. 16. Appropriately, the presentation will be made by his coach, Gerry Labelle, who mentored the Football Falcons, 1985-2002. Coach Labelle admiringly remembers his All-State quarterback as "a fine athlete and a fierce competitor, who always worked hard to get the most out of himself. The whole team looked up to him."

One of Heather Viti's most cherished memories comes from a special letter Greg wrote to her while fighting in Iraq: "I have always been a soldier in my heart, even as a kid. When I played sports, I was at war. The more I am here, the more I know that this is true. I belong in places like this."

By that self-recognition, Greg Barker unknowingly – but compellingly – wrote his own epitaph.

Photos: Sgt. Greg Barker, 1st Cavalry Infantry Division, U.S. Army
In combat, Iraq, 2006-2008 (top) and Falcon All-State Quarterback, 1990
Photos courtesy Heather Rae Viti Barker