BY DON SORCHYCH | SEPTEMBER 14, 2011
Cameron's in business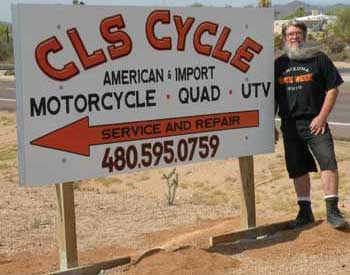 CAVE CREEK – Cameron Smith stands proudly beside a sign promoting his business, which was erected on Sept. 9. He had been in business for years under a home occupation permit which prohibited signs. Smith said he had spent hundreds of hours and about $10,000 to get a rezoning to commercial, which allows signs.

After battling through planning and zoning his unanimous council vote received a standing ovation.
BY MARIELLE D. MARNE | SEPTEMBER 14, 2011
Where in the world is Carmen Wootton?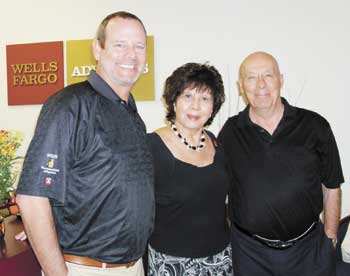 CAREFREE – After 30 years, neighbors and clients may notice the absence of Carmen Wootton at the Wells Fargo Investment Advisors front desk. On Sept. 8, exactly three decades from the date she was hired by Peter S. Slocum (photo, right), she retired. "These people have been my family," Wootton said. Right now, she plans on simply not working!
From the countless people who stopped in the office on Thurs., it is no doubt Wootton had a following, even if just those who knew her sunny smile and warm wave as they exited the post office across the hall. "We'll miss Carmen," shared Josh Slocum (photo, left) in concurrence with her former coworkers.
DFCA Annual Meeting
The 2011 Desert Foothills Community Association (DFCA) Annual meeting will be held October 20, 2011. The location for the meeting is the Cave Creek Memorial Arena, 37201 N. 28th St., Cave Creek. The meeting starts promptly at 7 p.m.