BY PETE MOHR | SEPTEMBER 14, 2011
Pre-game spirit innovations not enough to hold off Bradshaw Mountain
As 0-3 Falcons seek to regroup at 3-0 Queen Creek, Bryce Kinsler leading all Arizona quarterbacks in total passing yards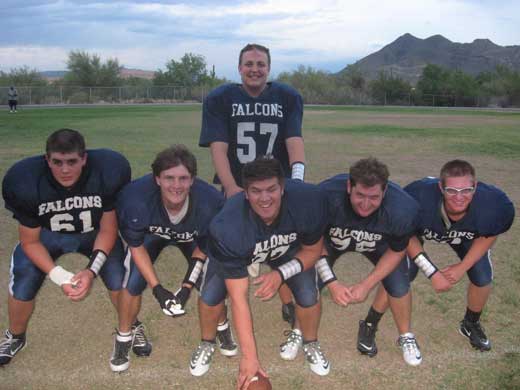 "Protectors of Bryce": In 148 passing attempts, QB Bryce Kinsler has been sacked only six times. The Falcon "O-Line" responsible for that impressive statistic: (l-r) RT Dylan Hasse (JR), RG Colby Brown (SR), Center Saul Monteon (SR), LG Landon Weaver (SR), LT Nate Covert (SO); (standing) the versatile Kyle Hajek (JR), the invaluable "Sixth Man" who can play all three OL positions.
Photo by Pete Mohr
CSHS – They say, "Lightning never strikes twice in the same place." Yeah, right. Last Friday night, September 2, at Falcon Stadium, there were two "lightning" bolts: the first occurred with only 19 seconds left in the 2nd quarter, when Bradshaw Mountain quarterback Tyler Audsley struck for a 75-yard touchdown run off a scramble, eluding three groups of Falcon would-be tacklers that left the HomeBirds "chasing 14" (Head Coach Greg Davis's descriptive term), 21-35, at halftime.
How the Falcons Scored …

2nd Period:
5:12 Matt Hartlen (8-yd. pass from Bryce Kinsler); Connor Folts P.A.T.
CSHS, 7 – Bradshaw, 14
8:03 Hartlen (22-yd. pass from Kinsler); Folts P.A.T.
CSHS, 14 – Bradshaw, 21
10:48 Connor Cozen (65-yard pass/run from Kinsler); Folts P.A.T.
CSHS, 21 – Bradshaw, 28

4th Period:
3:39 "R.J." Anderson (15-yd. pass from Kinsler); Anderson (two-point conversion, pass from Kinsler):
CSHS, 29 – Bradshaw, 43
The second, at approximately 9:15 p.m., was real-live and much-too-close, plunging Falcon Stadium into total darkness until 10 p.m., when play was resumed to complete the final six minutes. Thankfully (and I mean that), no players or spectators were injured – or killed. An unthinkable disaster could've taken place. This writer shall formally opine to the A.I.A. that the decision to suspend play in dangerous weather conditions should be vested in the senior host school administrator present (in this case, CSHS Principal Steve Bebee), not the head referee, who obviously had not experienced a Monsoon lightning storm in the Desert Foothills. Lightning is not to be "messed with" – period!

Coach Davis, with candor, to Sonoran News: "They (his players) might stink it up at times – but they never quit. I can't adequately express my respect and admiration for their willingness to keep fighting. We've got to become mentally tough and eliminate the mistakes that have hurt us in our first three games."

On the positive side is the play of the offensive line, which has held opponents to only six sacks of QB Bryce Kinsler in his 148 passing attempts, good for 76 completions totaling 1,082 yards. Coach Davis: "Bryce's leadership qualities make our offense go. We've got to find a defensive leader, hopefully this Friday night at Queen Creek. We can't keep chasing 14."

The 3-0 Bulldogs, at their Homecoming, will be too tough for the "Fightin' Birds": QC, 41 – CSHS, 28. But these Falcons, to borrow a Kirk Gibson encouragement, "ain't gonna roll over" – not by a longshot. If they don't pull off an upset at Queen Creek, they can take out their frustrations by beating Prescott at "Super Homecoming," Friday, Sept. 23.
Hang in there, Falcs! Better times are ahead.

Map to Queen Creek High School
BY PETE MOHR | SEPTEMBER 14, 2011
Ethan Homan paces Cross Country's solid performance at Chandler Invitational, Saturday, Sept. 10
Competing by grade level, 36 cross country teams vied at last Saturday's Chandler Invitational. CSHS junior Ethan Homan won his category in 16:48. Head Coach Patty Egan praising Homan: "For the three-mile distance, that's fast!"

Falcon medalists (top 20 finishers) were:
Freshmen: Keith Durkin, Julie Ramioulle
Sophomore: Sloane Meyers-Lenz
Juniors: Homan, Terri Baker, Dani Zalewski
Seniors: Tri-Captain David Tze, David Toomey, Co-Captains Savannah Alexander, Jenny Gormley

Harriers run again, Saturday, Sept. 17, in the "Artichoke Invitational" at Scottsdale Community College, morning start time to be announced.
BY PETE MOHR | SEPTEMBER 14, 2011
Inaugural "Falcon 5K Homecoming Run-Walk," Sunday, Sept. 18, Falcon Stadium, 8 a.m. start
After Cactus Shadows' "It's a Super Homecoming" week kicks off at 10 a.m. from Harold's in Saturday morning's traditional parade, put on your running (or walking) shoes the next morning (Sunday) for CSHS Baseball/Softball-sponsored inaugural "Falcon 5K Homecoming Run-Walk." The event will start at 8 a.m. from Falcon Stadium. Registration begins at 6:45.

There will be two participant categories (male and female in each): 18-and-younger and 19-and-older. The top three male and female finishers in each category will receive race awards. "Superhero" costumes are encouraged but not required. Will there be a "Spiderman" among the winners?

Entry fees (by check payable to "Cactus Shadows High School") are $25 for 18-under and $30 for 19-older. Please direct information requests to Softball Head Coach Danica Gianni at (602) 703-8944 or e-mail dgianni@ccusd93.org.

Calling all "Superheroes"! Whether you're a super-runner or super-walker, come out for some Sunday morning "super fun!"