SEPTEMBER 7, 2011
Application cycle for Arizona's spring hunts now open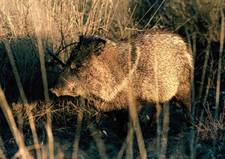 PHOENIX – When the Midwest is cold and snowy, in Arizona the springtime is all about calling in a wild turkey in the pines, or stalking a javelina in the open desert.

The seasons for these two sought-after species are set and hunters can begin submitting applications for tags issued through the drawing process.

The 2012 Spring Turkey, Javelina, Buffalo and Bear Hunt Draw Information booklet and regulations are now available at the Arizona Game and Fish Department's website, and applications for applying are available at www.azgfd.gov/draw.

"Javelina and wild turkey offer hunters, beginners and experienced alike, a challenge and a unique outdoor experience in the springtime," said Wildlife Recreation Chief, Craig McMullen. "There's nothing like stalking a javelina in the open desert or calling in a wild turkey when his tail-feathers are fully displayed. It's sure beats watching television."

Many of the spring hunts have a limited number of tags and are issued through a draw/lottery process. The deadline to apply is Tuesday, Oct. 11, 2011 by 7 p.m. (MST). Postmarks do not count.

At this time, applications can be mailed to the Arizona Game and Fish Department or hand-delivered to drop boxes at any of the seven offices located in Pinetop, Flagstaff, Kingman, Yuma, Tucson, Mesa and Phoenix.

Mailed applications should be addressed to the Arizona Game and Fish Department, Attn.: Drawing Section, PO Box 74020, Phoenix, AZ 85087-1052.

Furthermore, Game and Fish continues to test its new online application system, and officials anticipate that it may become available during the spring drawing cycle. However, there is no set date at this time. To be notified when the system is available, you can sign up for email alerts, "like" our Facebook page, or follow us on Twitter.

Worth noting, applicants who submit their application by the Sept. 23 correction period will be contacted by Game and Fish (by phone, three times in a 24-hour period) if there is a mistake on the application, providing an opportunity to correct the mistake. After that date, mistakes can cause your application to be rejected.

Applicants are reminded a 2012 license is required to enter the spring draw. Licenses may be purchased through the draw/application process. For those that wish to purchase a license outside of the application process, 2012 licenses are anticipated to be available at Game and Fish offices and website service by Aug. 20 and at license dealers the first week of September.

"For those kids that are considering hunting, or are new to big game hunting, we are offering juniors-only hunting camps and outdoor skills workshops (see page 26 of the spring regs). These events are a perfect place to start learning about the excitement and traditions of hunting," McMullen added.

Printed copies of the regulations are anticipated to be in stores at license dealers and Game and Fish offices statewide by early September.

For more information about hunting and drawing information, including leftover tags remaining for fall deer, juniors-only javelina and fall turkey, visit www.azgfd.gov/draw.