BY ABBY HEMINGWAY | SEPTEMBER 7, 2011
It's a Bullsnake, but it's no bull
What to do when you encounter a Bullsnake, or two, in your house


I wasn't even home when the six-foot male bullsnake slithered into my hall from the garage. It was a very warm September day, and as usual, I had been keeping the door open between the house and the garage for my little schnauzer, Rags, to do his thing on papers out there. I kept Rags' water in the hall, and of course this water dish is what the old bullsnake was after.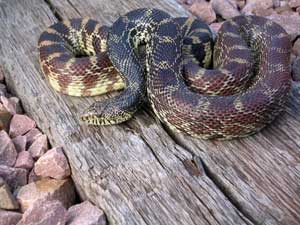 A carpenter was to come to the house that very day to build some more shelves for me. The carpenter, Pat, whom I had known for several years, had a key to the house and upon entering, spied the snake stretched out lazily in the hall with his six-foot length and eleven inch (give or take) girth on display. Pat grabbed a broom and was able to coax the snake back into the garage, and after pushing the garage door opener, encouraged it to keep going outside onto the driveway; he then immediately closed the garage door. Then it began – the pounding on the garage door. Later, Pat said he had never before heard anything like it. The snake would stop for a while, then start up the pounding again.

Pat finished the shelves and loaded his tools into his truck. He has a shell camper that is open to the cab and as he drove away he happened to check his rear view mirror, and there was the bullsnake staring back at him. But, he stayed cool as it just so happens that Pat has a neighbor who is very fond of snakes and knows how to handle them. When possible he likes to keep one or two under his house to keep rats away. Luckily, the neighbor was home when Pat drove up and gladly slipped a noose around the head of the snake and led him under his house.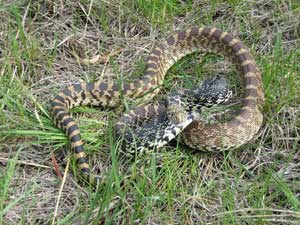 When I arrived home, I found a note Pat had left for me before he realized that he would be taking the snake home with him. The note read: "A bullsnake got into your house. I chased him out, but keep your doors closed because he wants back in." Well, how weird was this! Why my house? I immediately called Pat, who was still laughing as he told me the follow-up story and that the snake was under the neighbor's house. We still were both mystified as to why the snake would uncharacteristically pound on my garage door to get back into my house specifically!

I was pretty relieved, to say the least, that I had not come home and found the snake myself. I wasn't thinking much about snakes when I went into my bedroom and began to change clothes. I was at the far end of the room pulling open a drawer when I heard a very loud thrashing and beating noise coming from somewhere between me and the bedroom door. I leapt across the room, slammed the door and called Pat back, telling him about the noise. Immediately, he figured everything out: "That must be the old guy's wife!"

Pat and his neighbor friend came over and finally found the female, hunkered down among my shoes in the closet. They slipped the noose around the female, probably about one-eighth the size of her "husband," and took her to rejoin her mate under the house. So, a very happy ending.

After that I got sort of interested in bullsnakes (which are often called gopher or pine snakes) and found out a few things on the Internet. They are among the largest snakes in North America, and while six feet is a typical length, they can reach eight feet according to Barron's Manual on Snakes.

Bullsnakes range in color from cream to various shades of brown with black and brown blotches. Their heads are small with a scale or shield on the tip of the nose that is useful for burrowing or investigating crevices in search of food. Bullsnakes are fond of mice, rats, rabbits, and ground nesting birds, as well as squirrels because they can also climb trees. They suffocate their prey, then swallow it whole. Flexible ligaments that allow for swallowing animals wider than their bodies attach the top and bottom jaws. Strong acids in the snake's stomach digest the food. After a large meal, a bullsnake will rest for weeks before searching again for food.

The natural enemies of bullsnakes are red-tailed hawks, eagles and coyotes, not to mention man. Therefore, bullsnakes have developed some clever methods of seeming formidable, since they are nonvenomous and cannot strike like a rattler. When alerted to danger, a bullsnake can coil up, loop itself into an "s" shape as though to strike, and vibrate its tail, which works particularly well in dry vegetation. The sound closely emulates the rattle of a rattlesnake, hence the "bull" (as in "that's a bunch of . . .") in its name. In addition, it can produce a hissing noise by opening and closing an organ in its mouth called the glottis, making a "huff and puff" sound like a pipe leaking steam. A bullsnake can also flatten its head, resembling a rattlesnake even more, and with their six-foot lengths they are often successful in causing predators to back off.

I did not check back with Pat's neighbor to see if the happy couple has remained ensconced under the house, but because of the general pack rat population in the area, chances are good that they are still there. I like to think so anyway.
SEPTEMBER 7, 2011
The Boys & Girls Clubs of greater Scottsdale announce partnership with the Arizona girls' athletic foundation to launch new volleyball league for fall
New Girls' Volleyball League fall registration underway for girls ages 7-18 in Northeast Phoenix/Scottsdale
PHOENIX –The Boys & Girls Clubs of Greater Scottsdale announce they have partnered with The Arizona Girls' Athletic Foundation to launch a new instructional and recreational volleyball league for girls ages 7-18 starting this fall.

"This league is not just about the physical playing experience, but the entire mind, body, and spirit components about being an athlete," said René Hinz, president and CEO of The Arizona Girls' Athletic Foundation. "We want to help girls find their inner character strength and outer physical strength by playing volleyball."

The new Arizona Girls' Athletic Foundation Volleyball League offers many advantages for players, including:
• Free indoor weeknight team practices at the Vestar and Thunderbirds Boys & Girls Clubs of Greater Scottsdale gyms.
• Free volleyball skills clinic on SAT 9/10/11 for Boys & Girls Clubs of Greater Scottsdale members and league members.
• All coaches and referees must pass a comprehensive background check before participating in the league.
• Coaches will be guided to help manage expectations for age and skill levels.
• This is the only instructional and recreational league for girls through age 18 in the Valley.

"This new league provides the Boys & Girls Clubs of Greater Scottsdale the opportunity to offer a girls volleyball league and skills clinics for our members, while providing the facility resources needed to the Arizona Girls' Athletic Foundation. Our goal is the same. We want to help kids be active and healthy and provide them fitness opportunities within our clubs," said Tom Shaughnessy, senior vice president of operations of Boys & Girls Clubs of Greater Scottsdale.

Registration for the fall volleyball season and free volleyball clinic on SAT 9/10/11 is currently underway. Parents can register online at www.AGAFVolleyball.org or call 480-699-0227 for more information. More information about The Arizona Girls' Athletic Foundation can be found at www.azgirlsathelticfoundation.org.

About The Arizona Girls' Athletic Foundation
The Arizona Girls' Athletic Foundation (AGAF) is a new nonprofit created to benefit girls in Arizona who would like to participate in various sports programs but lack both the financial and facility resources to participate in these efforts. AGAF wants to empower girls to help them discover their inner and outer strength through athletics so they may grow up into strong women and accomplish amazing things. Girls who participate in sports are more likely to graduate from high school, avoid using drugs, and have a more positive self-body image than non-athletes.

René Hinz is the founder, president and CEO of the Arizona Girl's Athletic Foundation. She created AGAF as a way to provide a solution to the demise of Arizona school physical education programs and offer alternatives to the extreme competitiveness and expense of club sports and high school sports programs, in addition to the lack of athletic programs available for girls ages 15-18. Hinz is an Arizona native has worked in the advertising industry in Phoenix for more than 17 years. She played high school and club volleyball in Tucson, attended Concordia College in New York on a volleyball scholarship, and later walked-on to the ASU's women's volleyball team. She previously coached girls' volleyball through National Youth Sports.

About Boys & Girls Clubs of Greater Scottsdale
Since 1954, Boys & Girls Clubs of Greater Scottsdale has provided more than 100,000 Northeast Valley youth with a positive, supervised environment to explore the power of their potential. Today we serve 16,000 children and teen through the organization's nine branches and 12 outreach sites located in Scottsdale, Fountain Hills, Salt River Pima-Maricopa Indian Community, Hualapai Indian Community and other local neighborhoods.
The Club offers more than 100 youth development programs emphasizing five core areas: the arts; character & leadership development; education & career development; health & life skills; and sports, fitness & recreation. For more information please visit www.bgcs.org.
Tom Shaughnessy is the senior vice president of operations at the Boys & Girls Clubs of Greater Scottsdale, a position he has held since December 2006. As SVPO, he oversees the program, facilities and operations of nine Club branch locations that serve more than 16,000 youth annually. He has 20 years of non-profit experience in the youth development and workforce development fields. He has 14 years experience with the Boys & Girls Clubs, including executive director of the Boys & Girls Clubs of Central Wyoming.