BY LINDA BENTLEY | AUGUST 31, 2011
RAIDSOnline.com for tracking crime in your community
PHOENIX – Maricopa County Sheriff's Office CAD Coordinator, Crime/GIS Analyst Scott Jefferys developed a program RAIDSOnline.com that allows law enforcement agencies to map and track criminal activity in a sortable database.
Jefferys extends the credit to Bair Software for offering the website service free of charge to law enforcement agencies and the public.
Keep reading ...
BY LINDA BENTLEY | AUGUST 31, 2011
Gunrunner probe too hot for ATF Director and U.S. Attorney?
Only moments after Burke's announcement, a statement was issued by Holder on the matter

WASHINGTON – On Aug. 30, acting ATF Director Kenneth Melson was removed from his post by the Department of Justice (DOJ), following months of speculation over his role in a gun tracking operation that resulted in the murder of a Border Patrol agent.
However, Melson wasn't terminated; he was simply transferred to become a senior advisor at the Office of Legal Policy.
Keep reading ...
AUGUST 31, 2011
9th annual Cave Creek Wild West Days set for November 4-6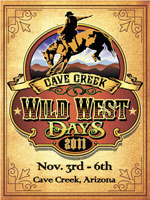 CAVE CREEK – Wild West Days, Arizona's largest western venue and a Cave Creek signature event, will be held from November 3 – 6 in downtown Cave Creek. The four-day venue kicks off with a golf tournament at Rancho Manana Golf Club followed by three days of non-stop family entertainment, mutton bustin', dances, a period costume competition, musical performers, period vendors, a western parade and Walk for 100 benefit, bathtub races, the Trainer's Challenge, Miss Wild West Days and various horse-related activities and other festivities that have made Wild West Days a renowned annual western experience. Keep reading ...
BY LINDA BENTLEY | AUGUST 31, 2011
D.C. judge rules against Taitz in SSA case
'The requested birth certificate has nothing
to do with this case …'
WASHINGTON – On Tuesday, U.S. District Chief Judge for the District of Columbia Royce C. Lamberth ruled against Dr. Orly Taitz, Esq. on all her motions before the court in a case against Social Security Administration Commissioner Michael Astrue, which arose out of the SSA's denial of a Freedom of Information Act (FOIA) request for a copy of President Obama's application for a Social Security number.
Keep reading ...
BY LINDA BENTLEY | AUGUST 31, 2011
PETA asks Cave Creek to rethink Running of the Bulls

CAVE CREEK – On August 22, the mayor and council received a letter from Gemma Vaughan of PETA's cruelty investigations department requesting the town "rethink" hosting a Running of the Bulls event on Oct. 14 and 15, "for the sake of the safety and welfare of both the people and animals involved."
Keep reading ...
AUGUST 31, 2011
Entry deadline Sept. 6 for 2011 Desert Foothills Film Festival
CAVE CREEK – The deadline for film submissions is 5 p.m. at Cave Creek Town Hall, Tuesday, September 6 for the 2011 Desert Foothills Film Festival, sponsored by the Town of Cave Creek in conjunction with Cactus Shadows Falcon Media.
The festival theme is "Our Community Through Your Eyes."
Keep reading ...

AUGUST 31, 2011
Councilman McGuire takes a trek through the Juneau Icefields
'For the next three days, walking and climbing stairs was difficult for me'
JUNEAU, Alaska – "A cruise it was not," said Cave Creek Councilman Thomas McGuire of his third trip to Alaska, adding, "It was a trip in the memory of Cave Creek author Homer Smith (From Desert to Tundra, 1971)."

McGuire said his third trip to Alaska was a unique experience, as he reminisced about his first visit, which was "a road trip in 1972 along the legendary Alaska Highway, built across tundra and mountains during World War II."
Keep reading ...
BY LINDA BENTLEY | AUGUST 31, 2011
Maricopa County 2011 property tax statements now online
PHOENIX – As the Maricopa County Treasurer's Office prepares to mail 2011 tax bills later this week, it has already posted them online at treasurer.maricopa.gov.

Even though property valuations have tanked dramatically over the past two years for many, some found their taxes have gone up anyway.
Keep reading ...
Birther Summit ups the ante for Honolulu newspaper
'We certainly hope they aren't so frightened of the evidence that they would keep their favorite charity from receiving this money'
WASHINGTON – The Birther Summit has doubled its offer to $10,000 for an original copy of either the Aug. 13, 1961 Honolulu Adviser or the Aug. 14, 1961 edition of the Honolulu Star-Bulletin, in which the birth announcements of President Barack Obama were purportedly published. The only evidence anyone has seen that these announcements even exist have been copies of microfiche versions of the newspapers, which contain suspicious anomalies.
Keep reading ...