BY PETE MOHR | AUGUST 31, 2011
CSHS students are spirit winners at Boulder Creek! But Jaguars outman Falcons, 48-20, in opener
'Birds at Pinnacle, September 2, for "Duel in the Desert"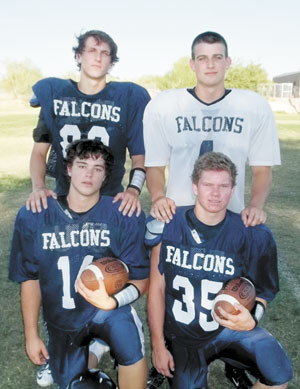 Photo by Pete Mohr
CSHS – August 29. A Bing Crosby novelty hit from the mid-1940s: "You got-to ac-cen-tu-ate the pos-i-tive…e-lim-i-nate the neg-a-tive…latch on to the af-fir-ma-tive…don't mess with Mr. In-Between!" And the estimated 300+ Cactus Shadows students who rode an "Ol' Yeller" CCUSD spirit bus or caravanned behind in their decorated vehicles to root on the Falcons in their 2011 season opener at Boulder Creek, Friday evening, Aug. 26, made it easy for this writer to "latch on to the af-firm-a-tive," despite the 'Birds 2nd half melt-down that sent them home on the wrong end of a 48-20 score.
See accompanying photo for the four 'Birds who flew highest in the losing effort against the bigger, faster, more experienced Jaguars. Off a Saul Monteon fumble recovery at the BCHS 46, the Falcs stunned the Jags with "R.J." Anderson's first of two touchdowns with only 1:37 gone in the 1st period. The Jaguars marquee speedster, 6'4" wide-out Marquis Bundy, got off a stumbling, fumbling punt return for the tying touchdown, only to have Anderson's tackle-breaking highlight film 51- yard catch-and-run with a Bryce Kinsler "slip-screen" pass put the Falcs in front for the second time at 6:55 of the 2nd period. But the snap for the point-after attempt by Connor Folds rolled to holder Kinsler who had no chance to set the ball up for Folts' kick: Falcons, 13 - Jaguars, 7. From this writer's perspective, the 'Birds thereupon appeared to lose their early-on fired-up edge; B-Creek rallied for 14 unanswered points; and went to the locker room leading, 21-13.
Cactus Shadows would not score again until the game's last 4:30, when wide receiver Kyle Gladstone hauled in a 20-yard toss from Kinsler to cap an 81-yard "for-honor" scoring drive. Down 13-41 at that point, the Falcons' TD march proved that they weren't about to quit -- when they could easily have done so.
On a personal note, congratulations to BCHS junior Isaiah Huston who rushed for one touchdown and intercepted Kinsler on the game's final play. Isaiah is the only son of former CSHS Athletic Director Mark Huston.
At Pinnacle this Friday night, the Falcons, strengthened by the return of two sorely-missed "Connors" (Cozen and Folts), will need to tighten up defensively if they're to keep pace with the Pioneers who whacked Sandra Day O'Connor, 42-21, in their home opener. CSHS Head Coach Greg Davis, quietly and confidently to Sonoran News, "We're gonna be all right. I'm taking my team to Pinnacle to win a football game."
"Dino," the self-confessed "homer," says, "Right-on, Coach!" But I reluctantly see "The Desert Ridge Bowl" trophy going back to Pinnacle: say, Pioneers, 45 – Falcons, 28.
–Pete Mohr
BY PETE MOHR | AUGUST 24, 2011
Meet the Football Falcon seniors …
Michael Schlotman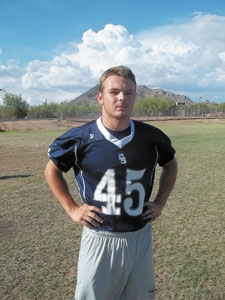 By the luck of the calendar, Michael Schlotman is the first of the Falcon Football seniors to be profiled by Sonoran News after last Friday's opening game loss (by 28 points) to Boulder Creek. And so I began our interview by asking him how he evaluated the Falcons following such a disappointment. Without hesitation, Michael Schlotman answered straight-up, "We've watched the game film, of course. We see – and can fix – the little things that we need to fix.
We're gonna cinch down our belts and stick to our slogan, 'We. Us. Ours.' We'll be fine. I think a State Playoffs berth for this team is very attainable."

Michael David Schlotman, the only child of Creekers Mike & Cheryl Schlotman, was born September 1, 1993 in Phoenix. A CCUSD enrollee since age 4, he progressed through B.M.E.S. and Desert Arroyo, but did not play organized football until a CSHS freshman. Always a linebacker ("I love it!"), Michael (he prefers to be called that) won varsity letters as a sophomore and junior. His favorite football memory to date? Making a (JV) interception in the rain and mud at Prescott: "I just hugged the ball. It was a momentum-changing play."

Starting at linebacker this season has enabled Michael to achieve one of his personal goals. At 5'11", 195 lbs., he'll strive "to lean-up to 200 lbs. and get a little quicker."
To be a senior Football Falcon? "That's something you can be only once in your life, taking that pride with you forever. I'm really pleased that my fellow seniors and I stuck around to play for Coach (Greg) Davis."

Michael rates himself "a 'B' average student: "I'm very 'into' business, so I'll be working toward acceptance into U of A's Eller School of Business. I'm interested in becoming an entrepreneur." Michael Schlotman is focused upon his future.

There are four persons he wants to make certain I include in his profile: first, his "football inspiration, my grandpa in Scottsdale, Ken Miller, who played for 'The Fighting Illini' (Illinois). He got me going…is my mentor…someone I idolize."

Second, "My Dad, who's introduced me to being an outdoorsmn. That really means a lot to me. And third, my Mom, of course. She's always supported me."

Last, but by no means least, is the special young person in his life, Jessica Sobieski, a junior, who plays varsity basketball for Head Coach Ryan Pletnick.

I enjoy sharing with Michael that my prep school sweetheart, Cornelia St. John now Mrs. Charles M. Lewis, and I have remained valued friends over some 58 years now. Ain't nostalgia great?!

Whether as a Football Falcon or whatever…I look for Michael Schlotman to take his best shot at being "great." He's already headed in that direction.

–Pete Mohr